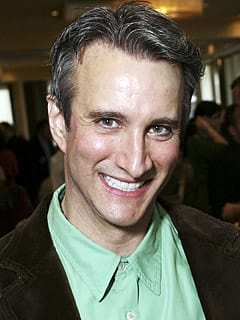 Entertainment Weekly
recently spoke with former
Perfect Strangers
star, Bronson Pinchot, about his guest starring role on
The Young and the Restless
...
Entertainment Weekly: So what led you to take on a role on a soap opera?
Bronson Pinchot: Oh, the usual... a casting director called. [Laughs] And I thought it would be really fun. I've done opera, radio, big movies, little movies, primetime... there's no aspect of media I haven't done except soaps. I'm big on ignoring the snobbiness of genre-fication. Doing a soap is really hard. You have to get it in one take.
How'd you end up playing the character?
I ended up being kind of quirky, which won't surprise you. But it was not a case of a comedic actor coming in and taking over. There was some aspect of humor, but I don't like it when actors force themselves into a situation. I always start with what a character is trying to do and go from there. I made it up as I went along based on the character's reason for doing things. He was rather eager to please.
Would you consider a recurring role?
I'd love to come back if we could make the schedules work. It's an incredibly welcoming, warm environment. There's a unique group wisdom to a soap opera cast that I really appreciate.
Read more soap opera news from Entertainment Weekly now!
Matt Richenthal is the Editor in Chief of TV Fanatic. Follow him on Twitter and on Google+.