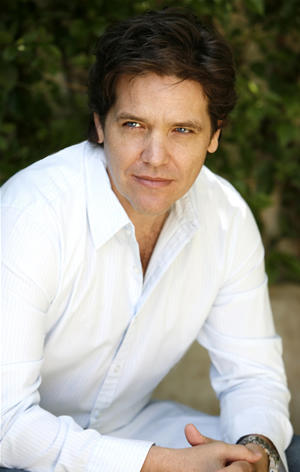 Danny Romalotti - and his portrayer, actor Michael Damian - have returned to The Young and the Restless.
Damian recently took a few moments to reflect on a few behind the scene reunions and share what he's been up to since his last trip to Genoa City. Here's what he had to say:
How did your latest stint on The Young and the Restless come about?
"I got a call from the show. They asked if I was A) in town B) available and C) did I want to Rock and Roll Genoa City with a couple of songs. Did I want to come back for a weeklong celebration for the 35th Anniversary of the show? And I said 'Sounds like fun! I'm in."
What do you remember the most about your first day on the set way back when you first came on as Danny Romalotti?
"You're not talking about 1981, are you? Way back many centuries ago before the bible began [he laughed]. That's a quote from Joseph [and the Amazing Technicolor Dreamcoat], by the way. My first show was with Doug Davidson [Paul]. I got a job as waiter-slash-busboy at Jonas' and Paul Williams worked there. We had a great time, became great friends. It was awesome. David Hasselhoff [Snapper] was on the show back then. David was always nice to me.
Doug and I just finished our scene together and we were just reminiscing about how much fun we had back then. Danny and Paul go back a long, long way and it is kind of sad that their friendship drifted over the whole Christine [Lauralee Bell] thing but I am very happy with how the characters have evolved now and it was a lot of fun to have them hang out. It is addressed in the script so that is good."
What is it about Danny that makes him a fan favorite?
"He's 80's hair and spandex. I think that is what did it [laughing]. The writing was just superb. The character is only as good as he is written. Bill Bell had a brilliant mind and did an awesome job. I am so sorry we had to lose him so early. He was a father figure. We always felt that he was looking after us. What I really am thrilled about is coming back in 2008 and finding the writing is still great.
There is freshness, depth, comedy and it is very layered. I don't know about all the other characters but certainly in the scenes that I have played out with Doug Davidson and Michelle Stafford [Phyllis]."

Did you interact with any of the new characters?
"I had a brief encounter with 2 new characters, Daniel's friend Amber [Adrienne Frantz] and Paul's daughter Heather [Vail Bloom]. That was fun. I had a chance to work with Josh Morrow (Nick) which is rare for me. We put our two heads together trying to remember if we had a scene together. That was a lot of fun. I enjoyed working with Bronson Pinchot. He was fantastic!
Very creative, which is fun as an actor and it keeps you on your toes. Yeah, I have been making the rounds the last couple of days. It is always nice working with Michelle, as always."
Matt Richenthal is the Editor in Chief of TV Fanatic. Follow him on Twitter and on Google+.