Round Table: "The Blair Bitch Project"
Steve Marsi at .
Welcome back to the Gossip Girl Insider Round Table!
While Gossip Girl fans gather in the The Blair Bitch Project" include couples that would make us sick, a character who may switch "teams" and much more …
~~~~~~~~~~~~~~~~~~~~~~~~~~~~~~~
1. Which would be the more nauseating Gossip Girl couple: Nate and Jenny, or Chuck and Serena?
DANdy: Chuck isn't as evil as he seems, nor is Serena as innocent as she comes across. Moreover, the nickname this couple would take on would lead to satisfying puns such as "awww, Shuck!" when the pair is acting cute, and "What the Shuck?!?" when they inevitably break-up. Jenny, however, is about 12 years younger than Nate. That's gross.
LovelyLively: Chuck and Serena. Picturing Serena with anyone but Dan Humphrey is like a kick to the stomach. I'm on the fence with Nate and Jenny, but that means they're far less icky to me!
MisterMeester: Tie. Neither pairing has the chemistry of Serena and Nate or Chuck and Blair. Those couples need to get together already!
2. Will Lily go through with her marriage to Bart?

LovelyLively: If Chuck Bass is really the best man, there's no way Bart makes it to the altar on time after that trans-continental, booze-filled bash. Lily will then leave him for good after being stood up.
MisterMeester: I don't see it happening. I don't even see why they're even dating - I know, I know, he's rich and powerful and so on. But we've seen zero chemistry so far between them. It's hard to take them seriously - or to think there's even a remote chance of it lasting.
DANdy: It's unlikely. Lily is having a major cow over the possibility of marrying Bart. In love, so far, she's been an underachiever, but Lily is far from proud of it. Save her, Rufus!
3. Gossip Girl spoilers have revealed that a gay character on the show will be outed. Who do you think it is?

MisterMeester: Eric, obviously.
DANdy: Eric.
LovelyLively: My guess would have to be Eric.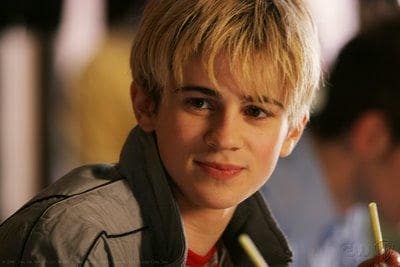 Is Eric (Connor Paolo) Gossip Girl's gay character?
4. What the heck does this "G" girl know about Serena's past?

DANdy: I don't know. But let's just hope it has something to do with a Serena: Uncovered, a sex tape from this beauty's past.
LovelyLively: Based on her wonderful gifts, we can only assume she's got photos of guys (or girls!) snorting coke and licking champagne off of a topless, handcuffed Serena. We can only hope.
MisterMeester: Again, the Gossip Girl spoilers make it quite clear who "G" is ... but what she knows, or will do to Serena? That's another story. My gut thinks that a guy was somehow involved in whatever rift took place, and G will look to get between Serena and Dan.
What is your take on these hot Gossip Girl topics? Leave a comment with your answer(s). Chime in and let us know!
Steve Marsi is the Managing Editor of TV Fanatic. Follow him on Google+ or email him here.