BuddyTV recently sat down with Supernatural writer Jeremy Carver who has wrote such fantastic episodes as "A Very Supernatural Christmas," "Mystery Spot," and this week's upcoming "Family Remains."  Here's a small excerpt:
Were you a fan of Supernatural before you started writing for it? Or had you seen the first two seasons?
Yeah, you know the process of joining Supernatural was sort of generic in the sense of, every year there's a staffing season, where writers who aren't on shows are trying to get on shows. And your stuff is sent around, your material is sent around to various show-runners like Eric [Kripke] and Bob [Singer]. And they're reading it and they're interviewing people when they are making decisions as who to hire. As far as my awareness of Supernatural, I was a fan, I was not a huge fan. I mean, I'd seen several episodes, but I was not like an avid watcher. My wife actually was the one who introduced me to the show, because she was a pretty big fan. And that's what got me into it. But when I came on staff, I had a lot of catching up to do in that way.
You must have because "A Very Supernatural Christmas" and this season's "In The Beginning" are both deep in the Winchester family history mythology. Do you feel like you have a good understanding of the whole Winchester family tree?
You know, I have a good understanding and I by no means have the best understanding of anyone on this show. I think, to be honest with you, the hardest episode for me to get my head around was the first one that I ever wrote. And I co-wrote it with Bob Singer, which was "Sin City." And that's because that episode was something that we had never done on the show before. We were basically going to have a demon sitting in the room with Dean, just talking about demon stuff. And I didn't have the slightest clue what a demon and Dean would possibly have to talk about. And actually, Bob did that part of the writing.

The heavy mythology stuff, it was specifically "In the Beginning," it was daunting and a little terrifying to be given the responsibility to do it. But it was also, so much fun. And Eric does give you a pretty good amount of freedom to run with it and present him with what you think. And he gives you a lot to play with and a lot of room to present him with what your version of what the Campbell clan would look like. He has very firm, fixed ideas but there's a lot of room to play with that stuff.

What is coming up in the next few episodes?
The next episode I wrote is called "Family Remains." Basically it was, I don't come from a horror background, so it was me challenging myself to make a horror movie in one episode. And that's what I attempted to set out to do.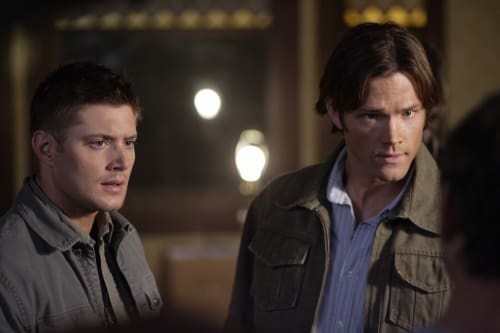 You can read the rest of the interview with Jeremy Carver at Buddy TV.
Eric Hochberger is the programmer of TV Fanatic, so please forgive his mediocre writing. His programming is far better. Follow him on Twitter and/or email him. Just don't request threaded comments. They're coming.