On tonight's new episode of Weeds, Nancy finally gets her wish: a non-shady, American obstetrician.
Her name will be Dr. Audra Kiston and she'll be played by a familiar face: Alanis Morisette kicks off a multiple-episode arc tonight on the Showtime hit.
In an interview with USA Today, the singer goes into detail about what attracted her to the role and what's in store for Kiston this season...
On becoming a fan of Weeds: "Weeds was my solace and respite in the back of the bus on tour. I was in the middle of detoxing at the time, and it was my replacement addiction for food."
On Kitson's interaction with Nancy: "Nancy is in a pickle, and Audra helps her outside of what typically would be allowed in a hospital... She's really drawn to the drama."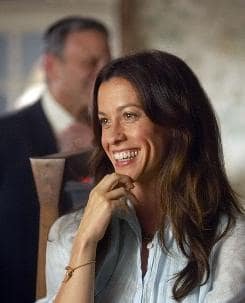 Justin Kirk (Andy) also spoke on his character's connection to Audra:
"I think it's fair to say that on the surface of things, Andy doesn't seem like someone who has (it) together to the degree she might, being a doctor and all that. It's a rocky road at first. It is a bit of a struggle for Andy to nail it down, as it were."
Matt Richenthal is the Editor in Chief of TV Fanatic. Follow him on Twitter and on Google+.