Hart Hanson, the creator of Bones, was faced with a difficult task at Comic-Con last week:
Defend an unpopular season four finale, in which Booth and Bones - after months of hype - only had sex in the former's dream sequence. Most audience members were clearly jilted at the tease of a storyline.
"I hope in retrospect the season finale will become more and more likable to our loyal fans," Hanson said. "Though I think the loyal fans got it. The people who tune in every once in awhile didn't like it as much. And I definitely heard about it."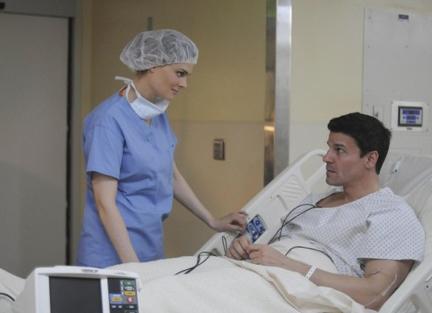 So, will the partners in crime ever get together? Should they?
"I think they are two people that do belong together," said Emily Deschanel. "I think they complement each other in great ways. I would love to see them together. But I do see that it's dangerous. It's tricky because you don't want to lose the sexual tension between us."
As for season five...
It picks up six weeks after May's finale; 
Brennan has just returned from a trip to Guatemala;
Her baby plans are on hold and Booth is still in a state of confusion.
Guest star Cyndi Lauper will give Brennan insight into her relationship with Booth.
Matt Richenthal is the Editor in Chief of TV Fanatic. Follow him on Twitter and on Google+.