Cyndi Lauper as a psychic. A post-comatose Booth. Three magic words that were sort of uttered and sarcastically reciprocated.
The fifth season of Bones kicked off in a fun way last night, as Lauper's character predicted a happy ending for Brennan and Booth... eventually.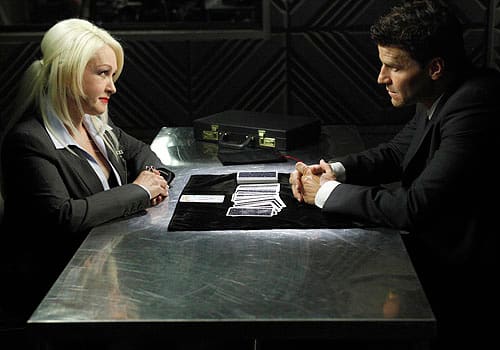 For now, fans can at least enjoy the following Bones quotes from the entertaining episode:
Bones: Well, they gave me medication. So I feel how I imagine people of average intelligence feel, all the time. | permalink
Bones: What did you want to tell me?
Booth: That I love you... In a professional, 'atta girl' kind of way.
Bones: 'Atta girl' kind of way? Right back at'cha Booth. I love you too. 'Atta Boy.' | permalink
Avalon: The riddle you can't solve is how ... somebody could love you.
Bones: Well I'm, beautiful and very intelligent.
Avalon: The answer to the question that you're afraid to say out loud is ... yes. He knows the truth of you, and he is dazzled by that truth. | permalink
Avalon: The man whose life you saved is really excited to see you again.
Brennan: No, I don't save lives. People are already dead when I get to them. | permalink
Booth: I got it. I got it. Just relax. Just trust me, alright? I'll take care of you. Shhh, I got you. Breathe. I'll take care of you I'm right here. I'm not going anywhere. I got you baby. | permalink
Matt Richenthal is the Editor in Chief of TV Fanatic. Follow him on Twitter and on Google+.