Considering that Fringe is based around alternative realities, it's safe to assume viewers crave answers about a number of topics and developments.
With that in mind, TV Guide went straight to the souces: producers Jeff Pinkner and Joel Wyman. The pair dished on a number of show-related topics this week, from the other Walter to multiple Observers.
Enjoy these excerpts...
On interactions between "over there" Walter and William Bell: "Over there Walter may have never worked with William Bell. He might have gone to medical school instead of being a scientist. But it's very possible that over there Walter is working with over there William Bell -- and in the same field." - Pinkner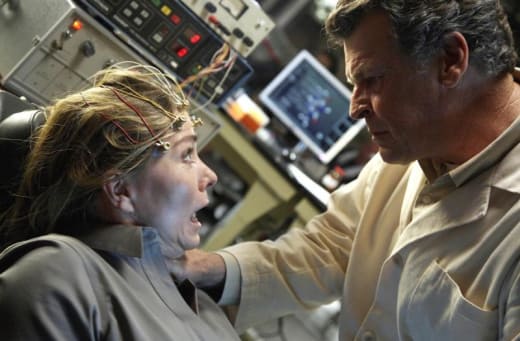 On meeting Peter's mom: "You're definitely going to get answers about Peter's mother this season. That element will be very illuminating and also a fantastic journey for Peter." - Wyman
On two versions of the same person meeting: "They might not like each other. But it's not like one of them has to explode. This isn't a time-travel show. There are no philosophical or physical conundrums with two people meeting. Somebody has come from their house to visit somebody at their house. And they just happen to be the same person." - Pinkner
On the Observers: "We're going to learn a lot more about them. People are fascinated by them. There will be a lot of answers about the Observers this season." - Wyman
On next week's Fringe episode, viewers will learn a lot more about Broyles and his family. We'll review it in full after it airs.
Matt Richenthal is the Editor in Chief of TV Fanatic. Follow him on Twitter and on Google+.