A Sex-Filled Farewell: Auggie and Violet to Get Naked on Melrose Place
Matt Richenthal at .
When we heard that Ashlee Simpson-Wentz had been fired from Melrose Place, it was music to our ears.
Unfortunately, before she leaves, there will be painful images for our eyes.
Colin Egglesfield, who plays Auggie and who also got the boot, told E! News yesterday that his character and that of Simpson-Wentz will get hot and heavy before they depart the show in early 2010.
"There are very few clothes involved in the near future," the actor said, while an insider added that Auggie and Violet are involved in a pair of steamy sex scenes in the near future.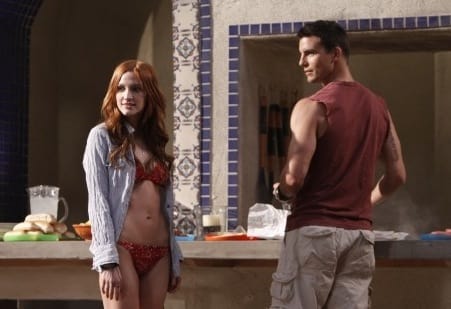 This does not mean, however, that Violet and Auggie will leave the show together, hand-in-hand, in a healthy relationship.
Egglesfield said his character is headed down a dark path, as teased via instant message last episode.
"Things get pretty violent and kind of crazy. Auggie ends up hitting the bottle and falls off the deep end a little bit," he said.
As long as he's not wearing a shirt while doing so, female viewers will likely be satisfied.
Matt Richenthal is the Editor in Chief of TV Fanatic. Follow him on Twitter and on Google+.