A few weeks into the season, critics and fans agree that Desperate Housewives is back in full force.
But will that remain the case? Producer Bob Daily spoke to TV Guide Magazine and answered a series of reader questions this week. He and other cast/crew members offered a preview of upcoming storylines. To wit:
On Tom and Lynette's son, Parker: "Honestly, we were feeling there were too many characters on the show. But I think he'll (eventually) be coming back," Daily said.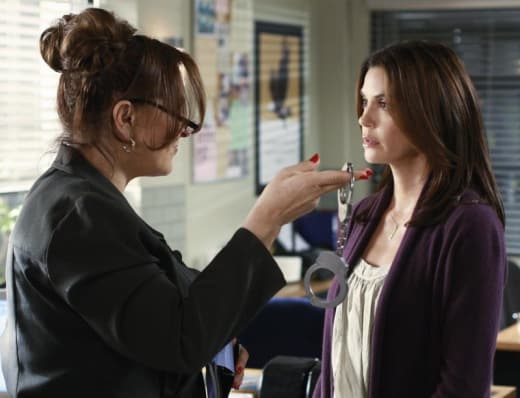 On the identity of Julie's attacker: Viewers won't discover this until the end of the season. Said Andrea Bowen (Julie): "Even the person who did it doesn't even know. Marc Cherry made an announcement after he screened the first episode at his house. He said, 'The greatest thing about this year's mystery is the person who did it is in this room and has no idea,' so he's keeping it under lock and key."
On Karen McCluskey: She'll return during the Christmas party; while portrayer Kathyrn Joosten is pushing to use her real-life cancer scare on the show. Said Daily:
"Kathryn is very keen on us doing a lung cancer story. She's very active in lung cancer charities so is pushing for this, and we're seeing if we can find a way to do it."
A new episode of the show airs on Sunday. As always, we'll update our Desperate Housewives quotes section soon after it concludes.
Matt Richenthal is the Editor in Chief of TV Fanatic. Follow him on Twitter and on Google+.