Alright! Finally, some action took place on this week's episode of FlashForward.
We had been growing a bit frustrated over the pace of the show. Each hour would end on a mysterious, suspenseful note - but when you'd step back and think about what had actually happened, the answer was always: not much.
The conclusion of "The Gift" changed that, however. Follow our link for a full recap and see if you agree with our following review of the episode...
RIP, Al: We had been pushing for Janis to literally bite the bullet a couple weeks ago, excited by the question of how the death of a character that had seen themselves alive in six months would throw the show for an intriguing loop. Looks like she'll make it, but Al isn't coming back from that roof dive. How will the development impact everyone's set belief in the future? We can't wait to find out.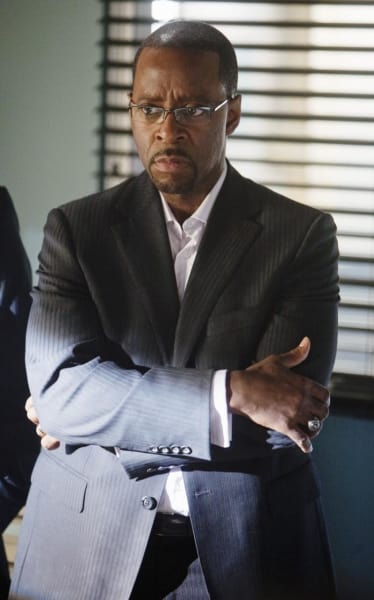 Really, Al? That said, did Al really need to kill himself in order to "change the game," as he put it? Maybe instead of entering the Blue Hand club, he could have suggested a movie to Mark and Demetri instead. Ignore a clue on Mark's board and that also "changes the game," doesn't it? Killing oneself seemed like an unnecessary, drastic way to not give in to the future.
Hello, Tracy: It was nice to see Aaron given more of a focus. His vision of his daughter alive was the most fascinating of anyone's on the show. As he told Mark in the premiere, unlike many other characters, Aaron wants his future to come true. The series has since ignored the opposing views of these friends in regard to their flash forwards. But now we have Al's death changing the game; yet Tracy's life possibly proving its validity. A nice contrast.
Goodbye, rest of the world: This is a problem we've had since the premiere. The show has done a poor job depicting the utter panic that would be ensuing around the globe. 20 million people died in the blackouts. 20 million!!!
The series is obsessed with its core characters and their immediate problems, which pale in comparison to the global catastrophe that just took place. The world should be in chaos and in mourning, making it difficult to care very much if Mark and Olivia stay together. As a side storyline that keeps us invested in these individuals? Sure. But their marital problems are focused on more than any other issue.
Did anyone watch the pilot episode of V? It masterfully introduced its main characters, while setting up a society in general that is clearly reeling from the developments surrounding it. We need more of that on FlashForward.
Agree? Disagree? Leave a comment. Let us know!
Matt Richenthal is the Editor in Chief of TV Fanatic. Follow him on Twitter and on Google+.