Amanda is most definitely back. She officially moved in to Melrose Place last night, as the episode titled "June" concluded with Heather Locklear making this proclamation.
As for other developments? Our initial episode review touched on many of them - but the TV Fanatic staff has gathered to pick apart a few more.
Find out what topics are on the minds of our Round Table crew below, and feel free to respond with your own take on these issues...
Did Michael kill Sydney?
M.L. House: Of course not. I've watched this show from the very first episode of the original series - and of all the things you can say about Michael Mancini, he's never intentionally killed anyone.
Dr. Shepherd: No. I predict a major letdown to this storyline. Michael may have been killing Sydney with his sexual prowess in bed (as he bragged about this week), but he's a doctor. They don't take lives.
The Barnacle: Yes. But he'll get away with it. Why? Because he's Michael Mancini! He's mastered the art of deception and manipulation.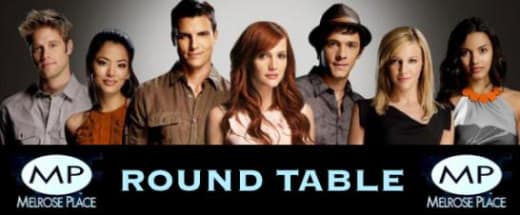 Talk about Violet's storyline from the episode.
M.L. House: Haha, I'd love to! It was actually the sort of ridiculous, outlandish angle I'd expect on Melrose Place. But because it was Ashlee Simpson, and because we know Ashlee Simpson is leaving the show, it seemed like The CW was purposely screwing her over by giving her the most outrageous material it could think of.
Dr. Shepherd: I loved when Levi just started throwing things around on Jonah's desk. He didn't break anything, he wasn't trying to take anything. He was just ensuring someone would need to spend minutes cleaning all that paper up!
The Barnacle: The brother's name was Levi. How classic! It just made me think of Levi Johnston, which made me laugh even more at everything going on. I adored every second of his time on screen.
Why was the episode title "June?"
M.L. House: I have no idea.
Dr. Shepherd: I have no idea.
The Barnacle: I have no idea. Does anyone know from where any of the episode titles come?
With which resident will Amanda first have sex?
M.L. House: David. I could see the sparks forming already last night. Plus, it would be a great way to piss off Michael.
Dr. Shepherd: Jonah. Amanda can teach him a thing or two about succeeding in business... and in bed.
The Barnacle: Perhaps upcoming tenant Nick Zano? We know he loves cougars.
Matt Richenthal is the Editor in Chief of TV Fanatic. Follow him on Twitter and on Google+.