It was Christmas Eve at the Harper household, and in typical Two and a Half Men fashion, we were just waiting for things to fall apart.  At the beginning of the episode, things actually seemed like they were going well.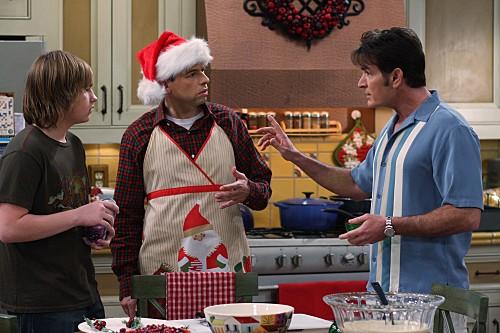 Alan was preparing a nice feast, Evelyn headed over with a prospective client, and Berta was even staying over as a guest.  How could it go wrong?  That's when Charlie decided to take Jake under his wing and encourage him to cheat on Celeste.
You can find out exactly what happened in our recap of "Warning, it's Dirty."  We're just here to give you a review on what we though worked and what didn't:
We love Carl Reiner and appreciate all his meta jokes as Marty Pepper, a fictional television producer, however, he just wasn't given good enough material.
Berta betting her bonus double or nothing, losing, and then Charlie giving her back the money?  Very sweet.  Her trying again?  So Berta, so awesome.
Really when Jake managed to land any girl, why would Charlie encourage Jake to cheat?  We though his mission was to get Jake laid.  Stick with the sure fire bet, not some strange.
Haha, Alan asking Jake if he could still ask out Celeste's mom.  Such a nerdy hornball.
Loved Charlie calling Jake his son due to common law and asking to have another.  Maybe Alan's ugly daughter can move in after a few seasons.
Overall we would say it was a decent episode and now for some of our favorite Two and a Half Men quotes after the jump.
Charlie: I think they got the place to themselves, so he might get a little "Peace on Earth" tonight. Alan: How do you make everything sound dirty?
Charlie:: Hey, I took the high road. I could have gone with "Come All Ye Faithful." | permalink
Alan: This may be your house, but this is my son.
Charlie: But you've been living here for seven years, which makes us a common law couple, which makes him our kid. | permalink
Charlie: What's mom doing here?
Alan: Well, it's Christmas Eve, Charlie.
Charlie: I know, why isn't she out stealing toys in Whoville? | permalink
Charlie: Speaking of generosity, check out what I got Chelsea.
Alan: Diamond earrings, nice.
Charlie: Yeah, she dropped a couple hints about stuff she wanted, but I wasn't really listening, so I bought her these. | permalink
Eric Hochberger is the programmer of TV Fanatic, so please forgive his mediocre writing. His programming is far better. Follow him on Twitter and/or email him. Just don't request threaded comments. They're coming.