As previously reported, Bones will flashback to the first-ever meeting between Booth and Brennan when the series airs its 100th episode.
Now, creator Hart Hanson is revealing more about the highly-anticipated installment.
It kicks off with the investigative duo correcting a passage in Sweets' book, as they feel a need to explain to him how they actually met.
Cut back to six years earlier. Booth is haunted by an unsolved case and tracks down Brennan for assistance. However, "they didn't like each other very much," Hanson tells TV Guide Magazine about the pair's initial interactions.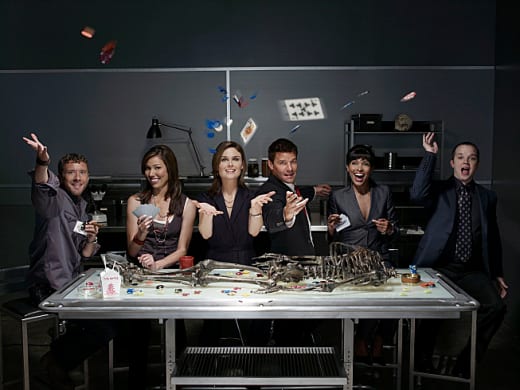 "I'm excited to find out what made Booth and Brennan hate each other," said star Emily Deschanel. "It had to be something big."
Also expected on the episode: Eric Milligan as Zack Addy; and Tamara Taylor as Camille in her pre-Jeffersonian Institute gig as a New York coroner.
The show returns with new installments on January 14. Catch up on your favorite Bones quotes in the meantime!
Matt Richenthal is the Editor in Chief of TV Fanatic. Follow him on Twitter and on Google+.