Jeff has a girlfriend! Jeff has a girlfriend!
Somehow this taunt isn't as vicious when said girlfriend is incredibly attractive and cool enough to get turned on (38% more) by secret sex in her office.
Indeed, the main focus of "Interpretive Dance" was Jeff's burgeoning relationship with Professor Michelle Slater (Lauren Stamille). The newfound maturity and commitment Jeff displayed with her caused Britta's feelings for the man to finally rise to the surface.
Will this be a good thing or a bad thing? Jeff's heretofore rejected attempts to woo Britta have made for some of the funniest moments on the show. It's unclear if a role reversal will result in as many laughs.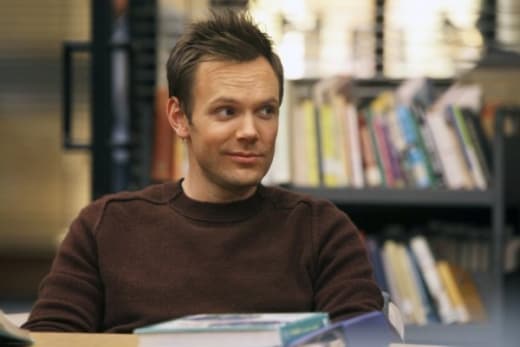 It is clear, however, that we're happy Pierce is alive. The group's fear, at the episode's outset, that its oldest member had died made for the best lines of the night, led by Troy and Britta's shared final words to him: Suck it.
These were almost topped later by Pierce's harsh review of Britta's dance performance (Tea for two? There are five people up there!) and his eventual fascination with her and Troy's on-stage routine (Culturally, it's unacceptable, but it's theatrical dynamite!).
Ironically, after spending so much time last week joking about his need to change, Jeff found himself a different person by the end of this half hour. Holding Michelle's hand? Giving Britta's flowers? Who is this Jeff Winger and what has he done with the bitter, sarcastic, cynical man we've grown to love?!?
We're all for character development, but this is a sitcom. Let's hope a mature Jeff still makes for a hilarious Jeff.
Below, we've listed a few other Community quotes from the episode. We'd also love to know: Do you wanna see Jeff and Britta together?
Jeff: Can't I be the friend in the group whose trademark is his well-defined boundaries like Privacy Smurf, Discrete Bear or Confidentiality Spice? | permalink
Jeff: As soon as we touch, the blinds will open, and six annoying but lovable misfits will be staring at us. | permalink
Troy: I am spending a lot of money on breakaway clothing. | permalink
Pierce: When I was 30 people used to wish I was dead to my face, that's called respect. | permalink
Matt Richenthal is the Editor in Chief of TV Fanatic. Follow him on Twitter and on Google+.