Life Unexpected Review: "Home Inspected"
at .
The CW did not fail this week on gaining our love for their new show Life Unexpected. In "Home Inspected" we get a closer look at what Lux would have done if she was emancipated from her parents.
Although Lux does have a pretty cute boyfriend, her life sans parents really got us feeling depressed. No kid should have to feel the need to grow up so fast.
I am not sure if I am just an emotional person - or just a girl - but I caught myself tearing up a couple times throughout last nights episode.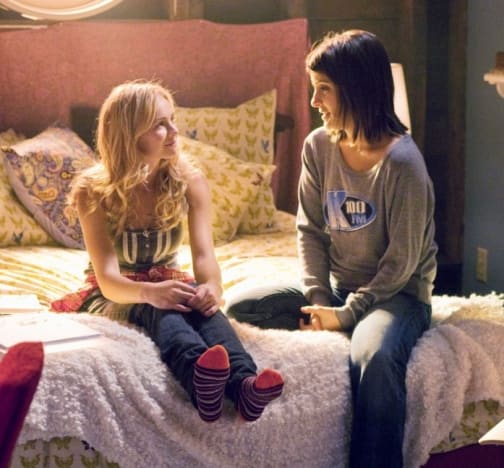 One can only imagine what it would be like to be a foster kid that is bumped around from foster home to foster home and finally getting back with her birth parents. It's hard enough just being sixteen, let alone having to go through the emotions of why your parents left you.
And then having your mother publicly deny your existence on air? Brutal. Just brutal.
We are surprised to see that Lux doesn't have a darker side - maybe a future subplot will have her addicted to drugs or failing at school.
This does not mean that we do not like Lux's characteristics thus far. She seems to have a pretty good head on her shoulders and definitely brings light into the other main characters lives.
Well, what do you guys think? Were you reaching for the box of Kleenex like us? Check out what we rated "Home Inspected" and read a few of our favorite Life Unexpected quotes after the jump!
Nate: You know you can get a ticket for going under the speed limit. | permalink
Cate: Who has an inflatable sheep? Its like your trying to be that stupid. | permalink
Nate: I feel like I should offer you some fatherly advice - some words of wisdom.
Lux: Okay.
Nate: What time should I pick you up? | permalink
Cate: He has the mental capacity of a nine year old. | permalink