Eight episodes into Scrubs season nine and we finally see what the show will be without any original cast members guest starring (and no, we're not counting the Todd).  So what did we think of "Our Couples?"
Well, the plot line between Turk and Dr. Cox felt a bit rehashed from earlier seasons where we've already seen Turk earn Cox's respect as a surgeon.  However, for some reason we still liked seeing Turk and Cox as equals and Cox being forced to call Turk "cute" at the end.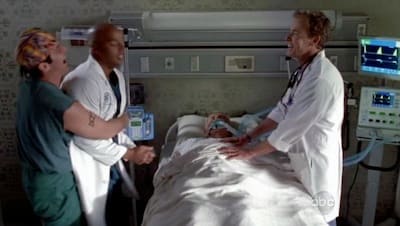 Meanwhile, Lucy came to terms that she actually had feelings for Cole for whatever bizarre reason.  While nothing stood out too much from the storyline, we did like seeing a vunerable side to Cole and the hopes he may one day become a decent character slash human being.
Meanwhile, our favorite members of the new cast, Drew and Denise had their own amazing side storyline where they teamed up doing "couple stuff."  Where couple stuff for this disturbing couple is tormenting others.
As much as we dislike the new security guards, seeing Denise convince one of them his golf cart ran away because it was being mistreated was actually quite enjoyable.  Overall the episode was decent and deserves a B-.  We'll continue to watch the new Scrubs for as long as ABC will give it to us.
Now for our favorite Scrubs quotes mostly led by the quote-friendly d-bag, Cole and the rough-around-the-edges Denise:
Denise: Drew, if I wanted to be with a girl, I could. Save all the emotional crap for your diary. | permalink
Lucy: Denise, that was girl talk. You have broken a sacred bond between sisters.
Denise: Oh no, now I'm not gonna be able to wear the traveling pants this week. Look, I know that you have daddy slash food slash body slash horse issues. But Cole? Really? | permalink
Cole: You can't just jump in front of golf carts, that's how gardeners die. | permalink
Cole: Oh like you're so great? you're wishy washy, you're obsessed with horses and there's that weird role play where you make me pretend I'm black.
Lucy: Is this coming from Cole or Deshaun?
Cole: Both. | permalink
Eric Hochberger is the programmer of TV Fanatic, so please forgive his mediocre writing. His programming is far better. Follow him on Twitter and/or email him. Just don't request threaded comments. They're coming.