Greek Review: "Pride & Punishment"
LL at . Comments
While everyone in the ZBZ house is still reeling from the guilty of the Gamma Psi fire, Casey Cartwright decides to do something about it: and as a result, there may be dire consequences for the entire ZBZ sorority - like losing their house!
Gamma Psi President, Natalie, may be one of the most annoying Greek characters of all time. How dare she try to blackmail Casey - offering her silence about the fire for the ZBZ house! Casey had no idea how she could break such horrible news to her sisters.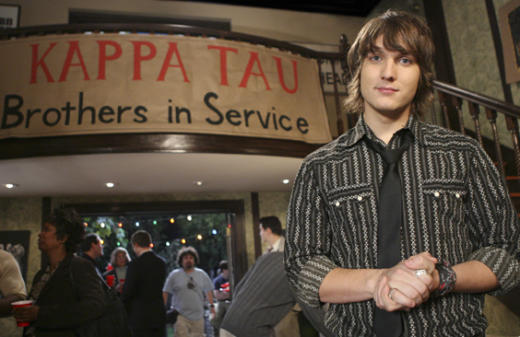 Luckily, she wouldn't have to, since Casey confided in Evan, who has an idea about how to deal with Natalie's BS. Only a shady person like Evan would think up a way to play hardball with Natalie. Natalie didn't want to turn Casey in - for a reason - and that reason was that she had cheated in Song Fest (which we knew deep down) - but she did it by sleeping with this disgusting celebrity judge!
Now that's low. And word of this type of behavior would totally destroy the Gamma Psi name - which is a lot more damaging than owning up to an accidental fire. Sorry Gamma Psis...
Read our complete recap of tonight's episode, titled "Pride & Punishment."
What are you looking forward to this season? 
We're hoping to see some more storylines featuring sidekicks! We want to see more Katherine - she is a bitch that you can't help but love! And Beaver has not been showcased nearly enough and he is one of our favorites! And of course, everything Dale touches is pure magic. Make it happen writers! 
We're also wondering if we'll see more of Dana (played by Martha MacIsaac of Superbad fame) in the future. In tonight's episode, she played an engineering major with a major crush on Rusty. She seemed pretty ticked off that he dissed her, but will she give him a second chance, now that he realized the error of his ways? We can't wait to find out!
Check out some of our favorite quotes from this episode:
Cappie: 'You will succeed where others fail.' Sounds like after three years I'm finally getting into Human Sexuality Class.
Casey: What is the big deal with that class anyway?
Cappie: An entire class dedicated to sex, complete with pictures of lady parts and man-business? I won't look at the lady parts if you don't want me to though.
Casey: Aw you'd do that for me?
Cappie: Except that just leaves man business, so that's weird. | permalink
Dale: So let me get this straight. You're a nerd who wants to look like a better nerd in order to attract someone who's not a nerd.
Rusty: You'd sing a different tune if you experienced the magic of retouching for yourself.
Dale: We don't believe in that in my church. Turns you blind.
Rusty: Is that why you need glasses?
Dale: Touche. | permalink
Beaver: I can't believe we missed the nerd auction. I always wanted my own nerd. | permalink
Ashleigh: It's an exciting way to start out the new semester. You've got a boyfriend. I'm single. We're arsonists. | permalink