This was far from the best episode of all-time, and it's easy to pinpoint why:
Not enough Creed. Or Kevin. Or Meredith. Or Dwight.
The Office cast members and characters we've grown to love over the years were marginalized in order for the show to highlight the takeover by Sabre. Which is somewhat understandable, as that will likely be the main storyline for the rest of the season.
But instead of having Michael spend so long at a sullen David Wallace's house, couldn't the episode have given us more of the aforementioned characters dealing with internal changes? After all, the snippets we saw were hilarious as always.
Who didn't laugh at Michael tossing Creed the chord in the opening scene? Or Kevin telling Michael that it isn't a toast simply because he's holding liquid? Or Christian Slater's random appearance?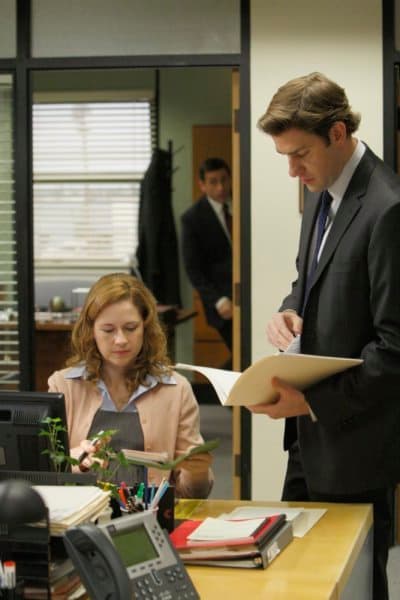 Jim and Pam have grown a tad stale, too. Or perhaps it was just their storyline. It seems like every show with an expecting couple depicts their attempts at trying to get into the best pre-school/daycare/kindergarten.
Not every one has the male walk in on a guy in the bathroom, though.
We do love Erin and Andy. Their "Sabre" song was probably the highlight of the episode and their contrasting views on who should make the next move has serious, humorous potential.
Of course, even a sub-part episode contains a bunch of great quotes. Our favorite are listed below.
Phyllis: This isn't a toast. You're just thinking out loud. | permalink
Michael: Is Christian Slater back there? Because he'd know what to do. | permalink
Creed: Have you tried making everything smaller? | permalink
Michael: This chord has Creed written all over it. | permalink
Kevin: Just 'cause you have liquid, that doesn't make it a toast. | permalink
Did we miss any? What was your favorite line?
Matt Richenthal is the Editor in Chief of TV Fanatic. Follow him on Twitter and on Google+.