Two people will get married to conclude this season of Bones. That much we know.
Of course, that still leaves the pesky question of: Who will it be?!?
Executive producer Hart Hanson would only tell TV Guide Magazine: "One of the four women in our cast will be getting married," but he did size up the odds of each candidate...
Booth and Brennan?
"It would take a lot to get there, but it's conceivable," said Hanson.
TV Fanatic Odds: 100-1.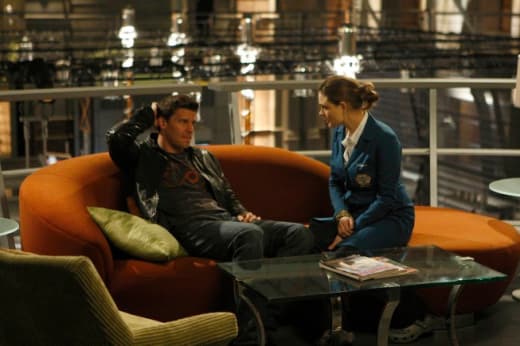 Angela and Hodgins?
Said Michaela Conlin: "Although Wendell is turning out to be more than a roll in the hay, Angela is very in love with Hodgins and will eventually end up with him."
TV Fanatic Odds: 4-1.
Daisy and Sweets?
"These two are a hot-and-heavy couple," said Hanson.
TV Fanatic Odds: 25-1.
Camille and... ?
"Cam will be meeting a love interest this season," said Hanson.
TV Fanatic odds: 10-1.
WHO YOU THINK IT WILL BE?
Matt Richenthal is the Editor in Chief of TV Fanatic. Follow him on Twitter and on Google+.