Congratulations, Zachary Levi.  You just directed my favorite episode of Chuck this season with last night's "Chuck Versus the Beard."
While there's been plenty of action-packed, funny episodes prior, few could compete with this episode.  Why?  Well for starters, this episode featured the entire cast, which is rare to get for budget reasons this season.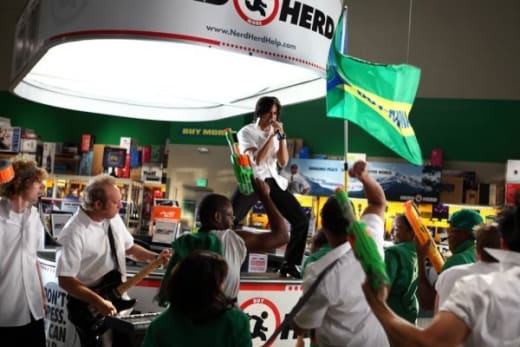 We're talking the entire cast, even Big Mike, who is missing way too often.  However, since this episode took place primarily at the Buy More, so it looks like they had no choice.
So cast aside, we loved this episode because it was all things Chuck.  It was super goofy at the Buy More kids grabbed their NERF guns and staged their lock-in all while Jeffster blasted some CCR.  Only Chuck could pull off a scene that silly.
Our favorite part of the episode, however, was the major reveal.  So spoiler alert if you haven't seen the episode.  We were incredibly excited at the notion that Morgan finally has learned Chuck's secret.
Sure Chuck previously had Awesome to confide in, but Awesome loved the spy stuff on a superficial level.  It will be nice for our boy to have a genuine best friend he can come to with his problems.
Plus, hey, once Morgan is done learning to crawl and up to that walking stage, let's give him some mace and he can help out on missions.  If Jeff can hop in and save Casey with his recreational chloroform, I'm sure Morgan can do something.
It was also nice to see Chuck finally able to admit he's in love with his beard, err handler.  Look at that.  Morgan already has done the biggest thing possible for the team.  He fixed the Intersect.
We have to admit, we're intrigued by what's going to happen with Casey and exactly why they need to track him down.  Yeah, we couldn't help ourselves but watch the scenes from next week.
Now for our favorite Chuck quotes from the hour:
Chuck: I'm not a machine! Okay I am a machine, but I'm also a person. | permalink
Lester: How do we know we can trust you, son that you're not some kind of spy for the man?
Casey: Because the only thing I hate more than hippie and neo-liberal fascists and anarchists are the hypocrite fat cat suits they eventually grow up to become.
Lester: Yeah, that works for me. | permalink
Morgan: So am I member of the team?
Chuck: Let's walk before you you run. Maybe crawl before that. | permalink
Chuck: You're only as food as your last flash, huh? | permalink
Eric Hochberger is the programmer of TV Fanatic, so please forgive his mediocre writing. His programming is far better. Follow him on Twitter and/or email him. Just don't request threaded comments. They're coming.