Warning: Those who wish to remain in the dark about all Desperate Housewives spoilers should stop reading now. Okay? All set? Let's go on...
As previously reported, Dana Delany might be exiting the series in order to star in Body of Evidence, a new drama on ABC.
However, even if the Emmy Award winner does agree to switch shows, there's no guarantee the pilot will actually get picked up.
"You never know with pilots," Delany tells Entertainment Weekly in a new interview. "Many of them never get off the ground, so all this talk could be rendered [pointless]. But I am realistically hopeful. I love the [Evidence] character, so I hope it all works out."
Sounds like she has one foot out the Desperate door, doesn't it?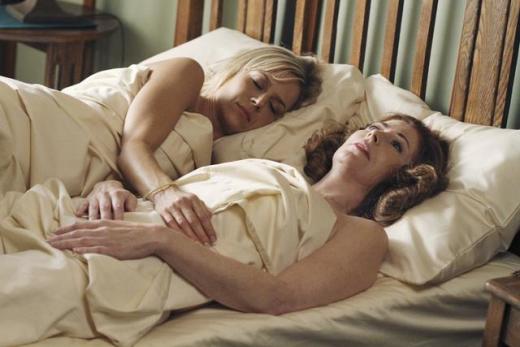 Ideally, however, Delany says she wouldn't leave the long-running hit for good.
"[Series creator] Marc Cherry [promised] he would not kill me off and told me I was always welcome to come back to the Lane," she says. "I would love for Katherine to pop into town and say hi to the gang every once in awhile."
Might Katherine and Robin actually stick as a couple, prompting them to leave town together? It's not a bad scenario, Delany admits.
"This might actually be her thing. It may make her happier than she has ever been. She does not have the best track record with men to begin with."
Matt Richenthal is the Editor in Chief of TV Fanatic. Follow him on Twitter and on Google+.