Soon after season four of Dexter ended in a literal blood bath, we wondered whether or not season five would jump ahead, skipping past Dexter's immediate reaction to Rita's murder.
Following last night's panel discussion at PaleyFest 2010, producer Sara Colleton has given us an answer: No.
"We pick Dexter up where we last saw him and what his psychological mindset is and what his journey has been that year and then that takes you forward," Colleton said. "I think the death of Rita is so awesome that it needs to be honored. We're not going to jump ahead."
As for Cody and Astor?
"[They] are somewhat insulated from Dexter's world, but it is something that is going to haunt Dexter," she said. "That's a very provocative issue that we are going to explore."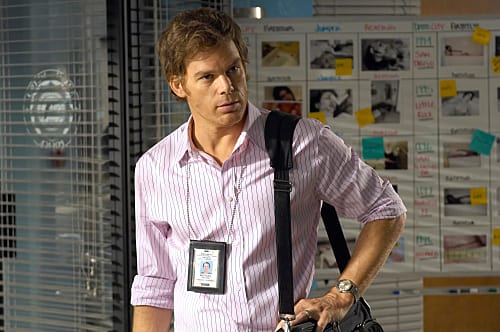 Asked about his title character, star Michael C. Hall said the series will deal with his connection to Trinity. Why, everyone must wonder on season five, would Trinity have targeted Rita?
"He's in hot water," Hall said. "I think there's a way out of it, but that's what we'd like to see. He'll figure his way out. His capacity for stress management rivals his capacity for straight-up killing."
Will Dexter find a replacement for his late wife? Not any time soon, Colleton told Entertainment Weekly:
"I don't think Dexter will be in the mood for dating...  That's not even on our radar right now. He very much loved Rita and they were in a good place right before she was killed so that wound will take quite some time to heal."
Matt Richenthal is the Editor in Chief of TV Fanatic. Follow him on Twitter and on Google+.