A mysterious woman who may be a long lost parent. International drug dealing escapades. Coat room sex. A blossoming love between friends and a marriage falling apart.
As the first Gossip Girl episode of 2010, "The Hurt Locket," had the feel of a season premiere. Not a complete reboot, but a much-needed return to what the show does best.
While far from the series' best, stories that begin now culminate in the best episodes later, and the first of 10 episodes to finish off Season 3 certainly provided a foundation.
Our episode recap has the basic plot details if you missed anything, with links to quotes and music from Monday as well. Now, for our official "The Hurt Locket" review ...
Rufus has been hiding from Lily because he's afraid to hear the truth, which is that she had a rendezvous with her ex (to be played by the soon-to-arrive William Baldwin).
Finally, she comes clean, insisting that she did see him and lie about it, but they only shared a kiss. Some kiss, Rufus says, having pretty much every reason to doubt her.
This development was fairly boring and will remain so until we meet Serena and Eric's dad, although Rufus seeing someone in Lily's building (!) is an unexpected wrinkle.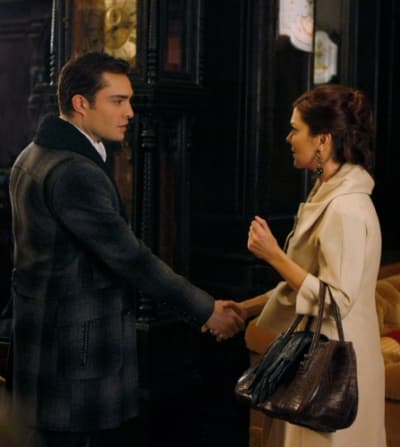 The locket hurts, and haunts, Chuck deep inside. The episode takes its name from a locket left by the mystery woman at his dad's grave. Naturally, he tracks the woman down.
She says she had a few memorable nights with Bart after Chuck's mother passed away, nothing more. Blair is pretty sure she's lying and coaxes her into reconsidering her story.
Intrigued as we are by the mystery, this story was most notable for the fact that Blair is doing it for Chuck, who has spent his entire life thinking his mom died during childbirth.
Blair wants to let Chuck off the hook, so to speak, by alleviating what has tortured him for so long. Is the woman, Elizabeth Fisher, really Chuck's mother? No one knows ... yet.
Thanks to Blair, she calls Chuck, but he steps away from his phone just as the fateful call arrives. Until next week ... any theories as to what her connection to Chuck truly is?
Coat check connection: Nate and Serena spent the holidays trading texts, and totally want to get together and be a real couple. But to make it work, they want to take it slow.
That lasts about 14 seconds as Serenate gets hot and heavy, giving fans a dose of what the producers have been hyping for weeks. But will the passion flame out? Blair thinks so.
Ever the dutiful BFF, B warned S that N would lose interest if she gave it up too quickly, and when he wants to go to the big French Ambassador's party solo, it looks like he has.
Serena storms out and calls none other than Damien, the son of a diplomat who she knew from boarding school and ran into earlier (and who Jenny is quasi-dating now, natch).
He jumps at the chance to take Serena to the party, where he already had an agenda - deliver a boatload of prescription drugs to the ambassador's daughter amid tight security.
Jenny hatched a plan to stitch them into a jacket, sneak them in, and swap coat check tickets with the recipient once inside. Clever. But Damien steals her idea - and jacket.
Here's where the stories intertwine and become vintage Gossip Girl. Damien tells her he's taking Serena, which saddens Jenny, who also knows Nate will be bummed ... so ...
She waits on the street to step in to be Nate's date. How convenient!
Damien's plan is foiled when he can't get Serena to take off the jacket, which unbeknownst to S is laced with pills he needs to make the switch for the Ambassador's daughter.
His non-subtle maneuvers of trying to get the jacket off by molesting her backfire, as she rejects him and storms off. Damien laments the end of his "career" ... until J steps in!
She tells Nate to man up and catch Serena before she leaves. He follows Jenny's orders, grabbing Serena by the arm, pulling her in the coat room and getting it on. Hot scene!
Wouldn't you know it, Serena's jacket (and the rest of her clothes) end up on the floor, allowing Jenny to yoink it and make the switch. Just like they drew that plan up, right?
Damien beams with pride at his understudy. You'll go places, J.
What did you think of the return of Gossip Girl? A little stale? Or a great start to what is sure to be an epic conclusion to Season 3? Comment and vote below!
"The Hurt Locket" was ...
Steve Marsi is the Managing Editor of TV Fanatic. Follow him on Google+ or email him here.