Grey's Anatomy Round Table: "Suicide is Painless"
Steve Marsi at .
Welcome to TV Fanatic's Grey's Anatomy Round Table, in which our esteemed panelists discuss hot topics and some burning questions from Thursday's episode.
Topics for our "Suicide is Painless" Round Table include memorable Grey's Anatomy quotes, Owen's past and future, Richard and Arizona incongruences and more ...
1. What was your favorite Grey's Anatomy quote from the episode?

M.L. House: Cristina: "Owen, what are you thinking?" Owen: "Nothing. Go to bed." I like this simple exchange because it profoundly illustrates how damaged Hunt is.
Mrs. Northman: Richard: "If I wasn't happily married, I'd hit her, I'd hit her hard. How great is watching the Chief try to fit in?! Next thing you know, he'll be gettin' jiggy with it!"
L.J. Gibbs: Mark: "Oh come on don't talk locker room talk in front of the coach." Chief: "I'm not the coach anymore, I'm a player. I take a shower like everyone else." LOL, right.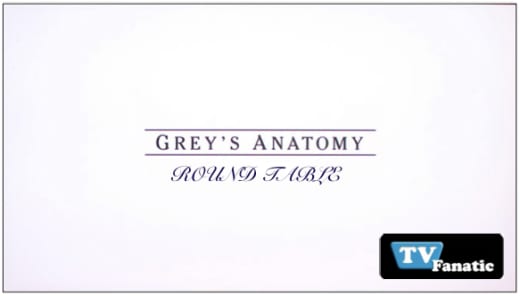 2. Owen flashbacks: Interesting insight, or unnecessary filler?
L.J. Gibbs: I thought it was an outstanding Owen-centric episode in that it actually tied in his past relationship with Teddy, his traumatic time at war, and the current case. If you're going to do flashbacks, that's how you do it - it was entirely not filler.
Mrs. Northman: Interesting insight. Wish they gave flashback for everyone - not just Owen!
M.L. House: I don't know if I like this recent trend toward character-specific episodes, but let's face it, Kevin McKidd was and is very good, so no complaints from me.
3. Harder to believe: Arizona not wanting kids, or Richard as one of the guys?
Mrs. Northman: Arizona not wanting kids! She is great with them - fights for them to be alive and at the end of the day would rather shoot herself than have one of her own? That's just weird.
M.L. House: Richard trying to be one of the fellas. What a hilarious, ridiculous man. I loved this bit, it was reminiscent of the camping trip from the old days.
L.J. Gibbs: I love me some Calzona, and not just because they're both attractive women, or form a couple name that's one letter away from my favorite food. So it breaks my heart when they argue. It also breaks my heart to think Callie's dad might not have a grandson after he came around during his last visit! Come on, Arizona. Maybe in a few years? Please reconsider.
4. Will Owen cheat on Cristina with Teddy?
M.L. House: I may be burned at the stake for saying it, but I actually think Owen and Teddy are extremely compatible and they certainly have a bond that's not purely sex-based. Does that necessarily mean they'll get together? Another story, but the connection is there.
Mrs. Northman: I think so! The reason why we all love Grey's so much is because of the drama!
L.J. Gibbs: I love Owen and Cristina, so I hope not ... but let me throw this out there. If Teddy and Owen were to hook up, there's always Jackson. Just saying ...
Do troubled times await these lovebirds?
5. Will you miss Izzie?
L.J. Gibbs: What I won't miss is the drama surrounding Katherine Heigl. What I will, and do miss are the old days, of which she was a big part. Grey's Anatomy is still an excellent show, don't get me wrong, but the days of the "Fab Five" seem a distant memory.
M.L. House: Let it go. I did a year ago.
Mrs. Northman: A bit, but not really. There are so many characters on the show to keep up with and I think Alex is much better off without her.
Steve Marsi is the Managing Editor of TV Fanatic. Follow him on Google+ or email him here.