This week on Man vs. Possum, we learned more about the Braverman family and the complicated lives they live. 
Let's start with Julia and Joel's relationship.  Julia is the working mom, working hard towards her career.  Joel is the stay at home dad, raising their daughter.  Very modern day parenting roles!
Now comes Racquel… how does this beautiful mother fit into the equation? We believe Racquel is after Joel and hope Julia keeps her eyes open and Joel keeps it in his pants!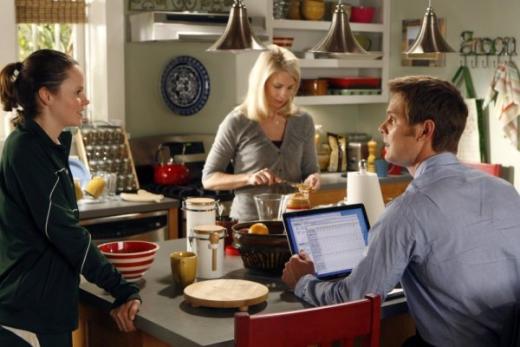 A very touching part of this show is seeing a man like Crosby making an effort to get to know his kid.
We wonder if Jasmine still has feelings for Crosby and if anything will develop between the two in the future.  We have to admit, Crosby's current girlfriend Katie is a bit of a drama queen!  Maybe Jasmine would be a better match for Crosby… and wouldn't it be great for Jabbar if his parents could get back together?
Poor Sarah, struggling to find a job and finding out that the only reason she was interviewed was because of her connection to her brother Adam.  We really hope she finds her dream job, a man, and somehow gets her life back together. 
Sarah is a wonderful mom, with the best intentions of her children at heart.  She seems to be the most relatable character on this show.  There are many single parents having to deal with the same issues as Sarah, especially in our world today.
The Braverman siblings even smoked a joint on this week's episode!  Did you notice how fast Kristina grabbed the joint away from Crosby?  Poor thing, must want to unwind a bit and forget the challenges that lie ahead for her and her family! 
Max's Asperger syndrome was confirmed and his parents are still trying to find a way to deal with his condition. 
Most parents just want the best for their children.  How terrible is it to find out your child has a disability, without the knowledge to help him/her.  Our hearts go out to Adam and Kristina and we are confident they will find a way to properly help their son overcome all the challenges he will face.
Parenthood is an entertaining family drama, one with a storyline that many people can connect with.  Not all families are perfect; we all have something we are dealing with.  This show's realistic nature is refreshing to watch. 
Until next week, we leave you with our favorite Parenthood quotes:
Sarah: I just moved to Berkley and this might sound lame but I'm ready to make a fresh start, and if you give me this chance I know I can blow your freaking mind. | permalink
Kristina: Max is, he's smart, and he's beautiful and there's so much potential and hope.
Adam: So what now?
Kristina: We start to work. | permalink
Sarah: You can be the best. I believe in you. Just be you. | permalink