24 Review: RIP Hassan, Peace Talks, Predictable Episode Conclusions
Matt Richenthal at .
The following review takes place between 5:53 a.m. and 6:11 a.m. Words are written in real time...

After close to eight seasons, countless government moles and numerous nuclear threats, 24 had seemingly lost the ability to shock us. That's a major reason why the show is ending after this crisis.
But I was left with my mouth agape at the conclusion of this two-hour episode... and not out of annoyance, as was the case when Dana was revealed to be siding with the terrorists.
Instead, this week's installment felt like the old days of 24: a truly exciting race against the clock that led to a result I never saw coming. Who out there actually thought Jack would be too late to save Hassan? Anyone?!?
While 24 is best known for worldwide catastrophes and enormous stakes, it's actually at its best when it focuses on one or two individuals. At this point, it's difficult to not be numb to the idea of a dirty bomb (heck, one actually exploded on U.S. soil a few seasons ago) - but Hassan has been established as an interesting, layered character, while his relationships to his daughter and wife have been well-explored.
Therefore, there was a strong resonance and a feeling of true suspense when Jack and company set out to save him.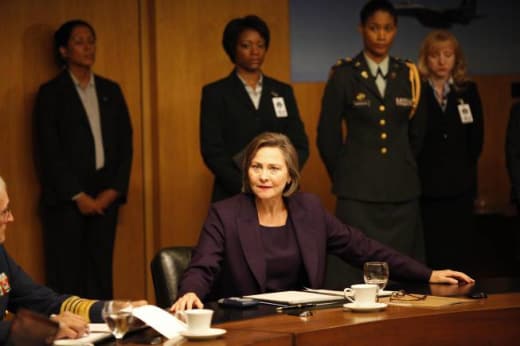 Before that went down, we were treated to a pair of other situations that also slowed down the overall action and let viewers deal with specific people: one loyal, one a traitor.
First: get better, Ethan! It's comforting to know that at least one good guy is, you know, actually a good guy. Fortunately, it looks like Ethan will pull through, so this isn't the case of 24 killing off a popular recurring character (RIP, Edgar). But, due to his past with President Taylor, it is a case of the show doing a solid job making its fans care about an individual and then placing his life in peril.
Up next: Dana. Booo! Hissss!
When she asked to speak with Jack, I was hoping that he'd somehow be related to her deception. Was there some agenda against our hero? Some connection that helped explain her turn? Nothing we heard last night, at least, as the reason Dana gave made us roll our eyes: money. Is that really the most creative the show could get?!?
Still, Katee Sackhoff is at her strongest when she's pissed off. We never really bought her as a sweet fiancee, or well-intentioned CTU analyst. While her storyline has still been horribly written to this point, the actress' performance is ratcheted up a notch by the reveal of her character as a mole.
Even Freddie Prinze Jr. stepped up his game. Give the guy credit for making us practically see the steam emanating out of his ears.
While we're acknowledging performances, Cherry Jones had her best scene as Taylor when she came face-to-face with Rob Weiss. It was another example of interpersonal relationships marking a fantastic episode. It's just too bad 24 didn't tighten up the action on season eight in general. We've said throughout that the drama doesn't need thousands of lives at stake.
Think back to season one, where the main plot focused on the assassination of one man: David Palmer. It was as gripping as any global attack has been since. It would have been nice for 24 to realize that and scale back the stakes this year.
The result would have been more hours such as this week's and possibly even more seasons.
Oh well. Let's not complain about the past. Let's focus on the future. With Hassan dead, we're left to wonder what will happen next. For the first time in awhile, this is my answer: I have no idea! Never has it felt so good to know so little.
What did you think of the episode?
Matt Richenthal is the Editor in Chief of TV Fanatic. Follow him on Twitter and on Google+.