On April 29, Fringe really will air a musical episode.
What inspired the show to follow in the singing footsteps of past shows such as Scrubs and How I Met Your Mother?
"We didn't set out to do a musical," producer Jeff Pinkner told EW.com. "We set out to do an episode that explored Walter's state of mind - he's dealing with some very upsetting news. When we realized that the way Walter would deal with such news would be to try to anesthetize himself with copious amounts of marijuana, well, singing and dancing became a natural outcome."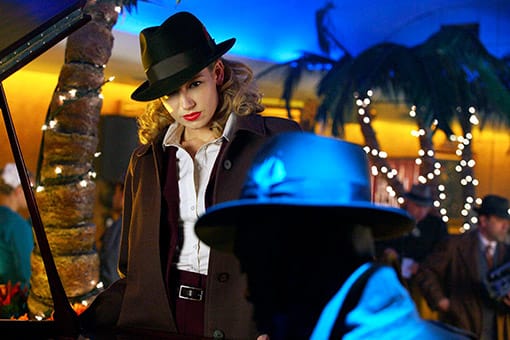 During the unique hour, Olivia takes on a retro private-eye persona, as pictured above. She also plays a key role in Walter's drug-induced visions Hypes Pinkner:
"It'll be interesting to see how Walter really perceives her."
Before we get there, however, Fringe will air an episode this week titled "White Tulip." Visit TV Fanatic first thing Friday morning for a recap and review of it.
Matt Richenthal is the Editor in Chief of TV Fanatic. Follow him on Twitter and on Google+.