Melrose Place Season Finale Review: Ella Sims By Knockout!!
Steve Marsi at .
The second iteration of Melrose Place had its share of ups and downs.
After last night's epic season finale, though, all we can say is that the clash of WPK titans actually lived up to the hype, and that if the CW doesn't suck it up and give MP a second season, some interns here at TVF are seriously gonna break $h!t.
In our review of "Wilshire," we begin with the undercard, so to speak, before leading up to the heavyweight bout. First up? David trying to fix things with Lauren.
Unfortunately, Morgan is bat$h!t insane and doing her best Violet impression, only Melissa Ordway has more acting chops in her left pinky than Ashlee Simpson.
In any case, Lauren shows up at Coal to congratulate David on his achievements when Morgan basically pulls an Alpha Female move and calls dibs on him. Snap.
He chases after Lauren and they make up. All is right with the world ... until Morgan's dad shows up to kick David's ass for stealing from him and hurting Morgan.
This show is the best.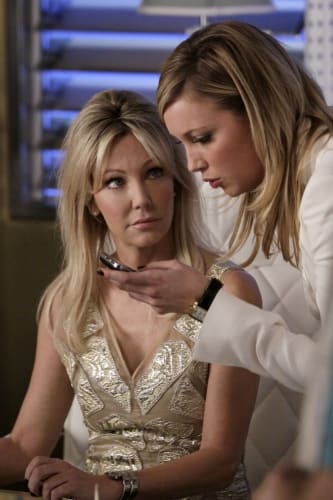 Hey, look at that. The L.A. County jail called - they're runnin' outta you!
Better still, Morgan's dad threatens to spare David if he works for him as a thief! If he refuses, than Lauren will pay. PAY! This guy is cut from the Dr. Mancini cloth!
Speaking of the evil doctor, Lauren reveals to Drew that she was called to help him install another one of his heart valves in a patient, which Drew takes issue with.
Drew confronts Mancini about his faulty device, and while he appears to listen, he's always got a plan. Diabolical SOB. Thomas Calabro just kills us every week.
On cue, security guards search Drew's locker and find oxycotin pills. Do not eff with an effer, as we once heard on Gossip Girl, could be the evil doctor's tagline.
After a season in the shadows, Lauren decides to make things right, telling everyone about the poisonous valve, and enraging Mancini beyond words. OMFG.
Riley and Jonah (try to stay awake) decide to go to an NYU mixer as friends. Jonah has a change of heart and wants Riley back, but she tells him he blew it.
Burn
.
At the party, Jonah confesses to Ella, who is not happy. She does thank Jonah for helping her realize she can be in a relationship, but just not with his dumb a$$.
So basically, Jonah is an idiot, which we have been saying for weeks, and he's just coughed up not one but two insanely hot girls. Call us, Katie and Jessica?
That's not quite all for Riles. In another stunning twist, she opens up about Jonah to Drew, who then confides that he's quite possibly gonna be dead soon.
He's got one of Mancini's toxic heart valves himself ... WTF!
Finally, the battle of the bombshells ... babes ... businesswomen ... bitches ... other words starting with B. It's Amanda vs. Ella for all the marbles. Last call for bets.
Amanda talks to a Mr. Lao about bringing him the Sydney Andrews original, which means she's pinpointed a location ... but then the original Sydney herself arrives!
As a figment of Amanda's imagination, that is. Or a hallucination. A dream? Who the frick knows. All we can say is that it's obnoxiously cheesy, but we still love it.
Ella tries to butter up Amanda, but she has proof of her dalliance with David. Ella ponders why she chose to model herself after a cold-hearted bitch. Mmm hmm.
Round 1 goes to Woodward when she smacks Ella AND fires her.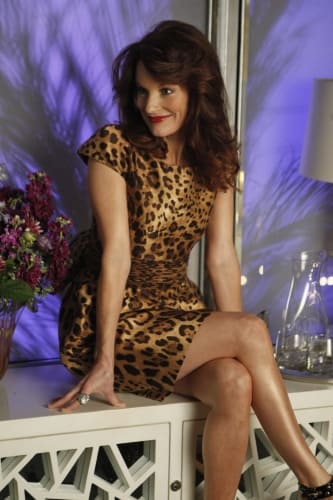 When ghosts are taunting you, it's a rough night.
Ella stops by Riley's looking for Jonah, but instead spots the painting and the light bulb goes on! Ella now has it in her possession. Safe to say Ella wins Round 2.
We're just getting started, though. Amanda breaks into Drew's apartment. Ella catches her and gloats about her new leverage. Amanda looks like a lost puppy.
In exchange for it, all Ella wants is her own PR company and all the clients she signed for WPK. And funding. And all this in writing. Done, done, done and done!
For good measure, Sydney shows up to taunt Amanda. So wrong, yet so right.
The final round comes when Ella arrives to collect, Amanda tries to turn the tables by saying she didn't read the fine print, but Ella turns them right back on her.
She had a P.I. take photos of her with the stolen painting. Game, set, match!
As the FBI shows up to arrest Amanda, we see that PK (formerly WPK) has put Ella in charge of the LA office. Amanda vows: "This war is just the beginning."
We hope that's true. But if this is truly it for Melrose Place, we can safely say it was a fittingly over-the-top conclusion with Ella Sims dethroning the ice queen.
What did you think of the Melrose Place season finale? Should the CW renew the show? Are you pleased with the ending if it does not?
Steve Marsi is the Managing Editor of TV Fanatic. Follow him on Google+ or email him here.