Well, things are about to get VERY interesting on Nurse Jackie.
For the first season and two episodes, this was a series built around Edie Falco's tremendous performance, as well as a few choice Zoey and Fitch quotes, along with the over-arching issue of Jackie's affair and drug addiction.
But outright suspense and drama haven't been the focal points of the series. That all changed at the conclusion of "Candyland."
Did anyone outwardly gasp when Jackie came home and saw Eddie playing with Kevin and the kids? Suddenly, I can't wait for next week - and not just to laugh at whatever Fitch says or smile at how adorable Zoey can be.
I truly have no idea how the Kevin/Eddie friendship will play out, and that's always the feeling you want when watching a TV show.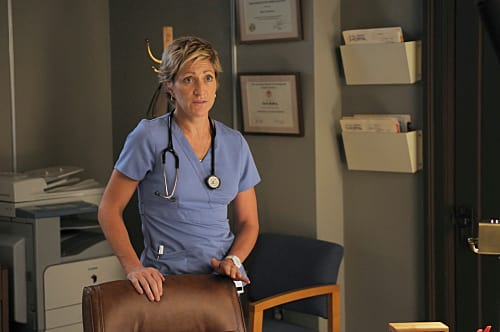 But back to Fitch and Zoey for a second: both actors in these two roles are perfectly suited for them. A younger generation may only know Peter Facinelli for his role in The Twilight Saga, but I hope Emmy voters are watching his performance. It's both hilarious and surprisingly nuanced.
And what's there to even say about Merritt Wever?!? Think we'll meet the man Zoey is pursuing with Christina Aguilera's perfume? I really hope so.
It's also nice to see that the show has found a proper use for Gloria Akalitus. She was wasted as an awkward comic foil last season. Now, she brings a sense of lightness to her scenes, but also of proper professionalist.
Below, we've listed our favorite Nurse Jackie quotes from the episode:
Jackie: Are you wearing perfume?
Zoey: No. Why? Is it bad? Does it make me smell like an old lady? | permalink
Akalitus: I like to hide my humanity. Or at least keep it to a minimum. | permalink
Fitch: Jump on the social networking trend. You won't regret it. | permalink
Jackie: Page urology.
Fitch: That's my call. I get to say that: page urology. | permalink
Jackie: By the way, your husband's testicles have migrated. I'll let you know if we find them. | permalink
Matt Richenthal is the Editor in Chief of TV Fanatic. Follow him on Twitter and on Google+.