The heart of a show is with its characters, and this show has such an amazing heart!

This week, on "Rubber Band Ball", Crosby gets to be a part of his son's birthday party, Sarah begins to trust her teenage daughter, Zeek is in trouble and asks his son for help, and Julia and Joel find out something extraordinary out about their daughter. 

First there is Zeek, the oldest member of the Braverman family.  He is a big mess, maybe even losing his house through a faulty investment.  We can't believe he hasn't told Camille about their financial woes.  Did you see the look on her face when she asked him how his weekend away with Adam went?  We have a feeling this smart lady already knows what is going on.  Come on, you can't get much past the real head of the family!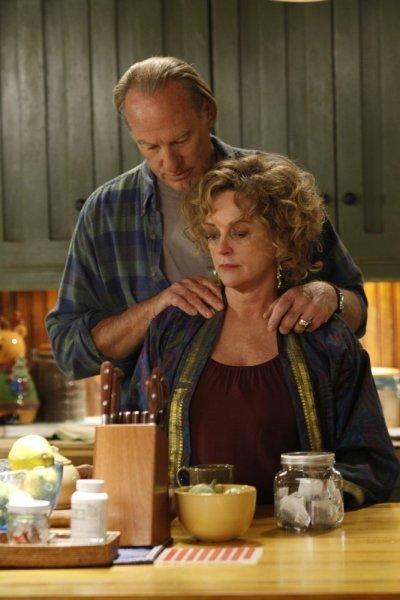 Crosby and Jasmine make a real connection, which ultimately has her telling her family the truth of their past.  Crosby is not the loser that she has portrayed him to be!  Honestly, he is such an amazing man, she would be lucky to get his forgiveness after everything she has done.  Crosby is the one that lost the first five years of his son's life.  Seeing from the previews for next week, he also does a lot more then forgive her.  Can't wait to see what transpires between these two!

Amber gets re-involved with an ex just to spite her mother, for Sarah's relationship with the cute Mr. Cyr.  Sarah finally gives up and decides to trust her daughter, which ends up resolving the entire mess.  Maybe parents need to remember how important simply trust can be. 
Joel and Julia worry that their child might also have Asperger's, which then turns out to be nothing.  Sydney is really just a genius.  We appreciated Julia's hesitation in telling Kristina the truth, and liked that she wasn't her usual gloating self.  She didn't rub in the fact that her daughter wasn't challenged but gifted.  Adam and Kristina have it hard enough and don't need to start comparing their son to Sydney.   
Parenthood
is truly heartwarming show to watch.  We found ourselves laughing out loud at times and even had tears in our eyes when Crosby watched the video of Jabbar's birth.
Here are a few of the most memorable
Parenthood quotes
for your enjoyment until next week:
Sarah: Why do you insist on making every mistake I made? | permalink
Zeek: You left your sock in my house, but took my granddaughter's innocence. Here's your sock. | permalink
Zeek: I'm an irrational hard ass with rage issues. Don't piss me off. | permalink
Sarah: Amber is from a broken home, so that means she doesn't know a serious relationship from a sandwich yet. | permalink
Crosby: Your family is intense.
Jasmine: You think.
Crosby: That's saying a lot coming from me. | permalink