The Good Wife is simply a quality TV show.
After a few weeks off the air, the show returned with "Boom," an episode that tackled a number of mature, global topics, while concluding with a dramatic scene that grounded it in the relationship between Alicia and Peter. Just great stuff all around.
Before we get to the Florricks and Alicia's fateful two words to her husband (It's over), let's start with the impressive range of subjects the hour took on, all without batting an eye or dumbing anything down for viewers.
There was affirmative action, as Julius played that card to maneuver himself into a raise at Lockhart and Gardner; religion, both in terms of Peter's attempts to change and the newspaper running a cartoon depicting the prophet Mohammed; the economy, as the firm deals with cutbacks and a questionable future; the state of newspapers, with an editor admitting he must keep up with the Internet.
Racial profiling was also raised during the trail, when the cartoonist talked about his motivation for creating his drawing.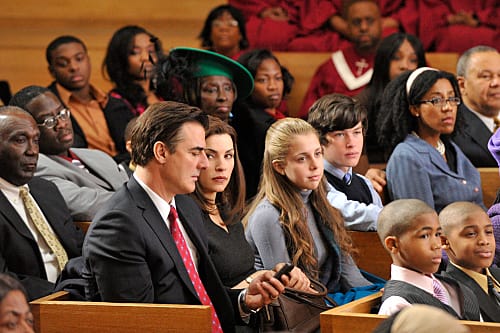 Without trying to tackle any political issues in a television show critique, it's impressive that The Good Wife can be so topical, given the scandal over Arizona's recent decision to legally allow profiling, and the recent flap over Comedy Central censoring a South Park episode that focused on Mohammed.
Still, with all this flying around, it all comes back to Alicia. She has seemed anything but enthusiastic over Peter's supposed conversion, but it was clear by episode's end that she wanted to believe her husband could change. She was hoping this was actually the case.
Which is why she was so crushed when she saw him dealing with a shady businessman yet again, in the church stairwell of all places!
But Alicia didn't sit around and mope. She was direct in her criticism of Peter, in her view of their relationship and of her plans to move on: paging Will!
Alicia better keep her eye on the ball at work, however. As Matt Czuchry teased earlier this week, Cary is making his move for the junior associate position. He's even turning down sex with a beautiful woman to earn it. That's bold.
What did you think of the episode? We've listed a few quotes from it below:
Peter: Help me. If you're right, help me.
Alicia: No. | permalink
Peter: Am I not supposed to be jealous?
Alicia: I don't think I care what you are. | permalink
Diane: What happened to loyalty?
Julius: It exited the building the day you fired half of tax litigation. | permalink
Jackie: Who are you?
Eli: The plumber. Who are you?
Jackie: I'm Jackie.
Eli: That means nothing to me. | permalink
Jackie: My son will not be made weak.
Peter: You are one scary mom.
Jackie: And you are one good son. | permalink
Matt Richenthal is the Editor in Chief of TV Fanatic. Follow him on Twitter and on Google+.