The Mentalist Review: "The Red Box"
at . Comments
Last night marked the return of The Mentalist. We missed our favorite California crime fighting team!
Of course, we were very anxious to meet the new big boss - Agent Hightower.
Agent Hightower arrived only in the second half of the episode, but boy did she make a grand entrance! You can tell right off the bat that this lady means business!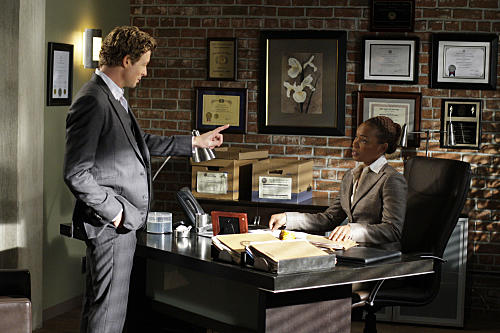 Somehow Jane has become the golden child to the higher ups - he can do no wrong...well, no wrong that would get him fired. Lisbon on the other hand, has her neck at stake. If she can't keep Jane and his unorthodox ways in line, she will be the first person to go. 
Poor Lisbon! How on earth will she ever be able to keep Jane in check? We seriously think he is worse than a two year old when it comes to following rules. Hopefully, for her sake, he will learn how to! We think that there is a deep connection here that may come to head if and when Lisbon may loose her job.
It also looks like Lisbon is not the only one on the team that should be in fear of loosing their job - somehow Hightower was able to figure out that Rigsby and Van Pelt are in a relationship - which goes against the rules at the CBI. If we had to choose one to stay it would have to be Rigsby because he always has something funny to say or do. Don't get us wrong, we hope that Lisbon finds a way of handling the situation without having to fire either of them.
In "The Red Box", the team had to track down the killer of a young smart tutor - Oliver. A man named Francis Slocombe came into the picture and Jane was able to figure out that he was the father.
There are some resemblances between Jane and Slocombe. Both have sought vindication for their child's death. You could tell Jane sensed it two at the hospital when Slocombe came to visit his son. Jane could have easily brought him in, but he let him go because he knew in his heart that it was the right thing for him to do.
We do have to say we are happy a new character has come into the mix of things at the CBI. Hopefully, she will provide some interesting connections between the main characters.
What did you make out of last nights episode? Are we the only ones still clinging for more Red John?! Leave your comments below - we would love to know what you think!
Follow the jump for our favorite The Mentalist quotes from last night!
Hightower: (to Jane) You, you're golden. | permalink
Cho: You think being a cop is stressful? Try being a cop in prison. | permalink
Van Pelt: We're on duty -
Rigsby: I know, it would be totally wrong. | permalink
Jane: No need to be nervous.
Lisbon: I am not nervous.
Jane: You are an extemporarily agent - no reason for butterflies.
Lisbon: No butterflies I am fine.
Jane: Keep telling yourself that. | permalink