This week's episode, "A Deadly Game," ended a tremendous second season for Castle.
Allow me to start by saying what amazing writing staff Castle possesses. I have become a huge fan of Andrew W. Marlowe, who created the show and is the main writer.
As with all Castle episodes, there were several layers of things going on during this hour:
The spy who is not really a spy but is really dead.
Alexis growing up and going away for a summer program.
Castle struggling with his feelings for Beckett and trying to deal with her dating Demming.
All of it was woven together masterfully and kept you guessing as to who really committed the murder.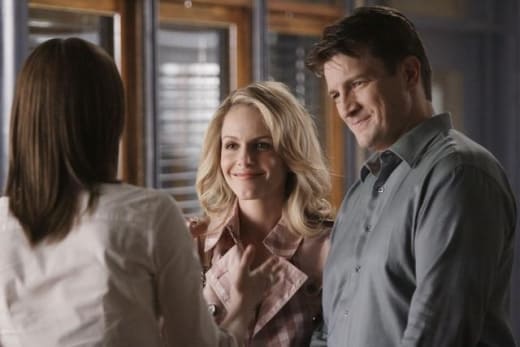 The relationship between Castle and Beckett reminds me of the early years of Moonlighting, when Maddie and David had sexual tension to play off of. Many people believe that them getting together is what killed that show.
I disagree; I think it was the overall writing (not just their relationship) of Moonlighting at the end was to blame for its demise. I believe the writers were so dependent on the sexual tension, that when it was gone they were not sure what to do and the stories got really bland.
Writers on Castle have avoided the same issue so far by not having Castle and Beckett get serious. While I agree this works for a season or two, it really is the easy way of dealing with the issue. If you are writing a show (like Moonlighting) and a big portion of it is built on the sexual tension between the lead characters, the series has to adapt and change when you decided to release that tension.
Castle does not depend as much on that tension and I think it could easily adapt as other shows have. For example, look at the show The Big Bang Theory. Penny and Leonard were able to get together and the show adapted to it and the ratings only went up this season.
Don't get me wrong. I am happy to have the tension between Beckett and Castle (for now). However, I am sad that Demming got dumped and won't be around.
Michael Trucco is an awesome actor and I loved his portrayal of the character (maybe we could get a spinoff with Detective Demming as lead). Since he is leaving, it would be nice to see Castle and Beckett take small steps forward next year.
What do you think? Should Becket have stuck with Demming, who she clearly had no trouble being close to? Or is this a case of "the heart wants what the heart wants" and she should step up and tell Castle how she really feels? Do you think that the writers should continue to keep them on the brink for a long time?
I am curious about what you all think. Comment below and share your thoughts on the episode, Castle and Beckett, or the show as a whole.
Jim G. is a TV Fanatic Staff Writer. Follow him on Twitter.