You knew when Chuck opened with a parody of the Hart to Hart intro, we were in for a goofy episode this week with "Chuck Versus the Role Models."  The guest star casting of Fred Willard and Swoosie Kurtz didn't hurt either.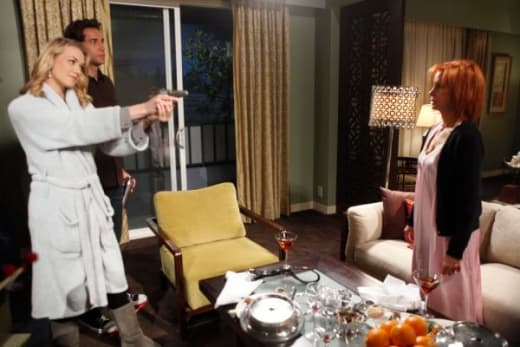 It's always nice after such a serious season of Shaw and the Ring to have these two back-to-back goofy episodes we really haven't seen since season two.  This week's assignment?  To follow and learn from the best spy couple: The Turners.
It turns out the goofy spy couple played by Willard and Kurtz were clearly no people to model themselves after, despite their long list of achievements. No way a couple as good looking and suave as Chuck and Sarah could turn into that right?  Well hopefully the show lasts 30 years so we find out.
The Turners were certainly entertaining and backstabbing, but at no point even close to as convincing as a spy couple as Chuck and Sarah.  At least they helped provide us with an hour of comedy, reinforced the idea of the 30 foot rule to Chuck and even convinced Sarah she should move in with Chuck.  Guess they served their purpose.
Meanwhile, Operation Bartowski was split in two this week as Casey was forced to take Morgan under his wing.  With a grunt and eventually some sweet words to Morgan, Casey accepted and failed at every level to train the guy.
We thought we'd be sick of Morgan as the comic relief by now, but nope.  Whether it's was Morgan's first attempt at firing a gun outside a first person shooter or taking on a tiger, the dynamic between Casey and Chuck works well.
Plot wise, the only major advance took place during the painful jungle scenes.  We were glad to see the little ring twist at the end, otherwise this set was just a waste of Chuck's already tight budget.  We were happy to have this stand-alone episode, but are excited to see some advancement next week.
Our favorite Chuck quotes after the jump.
General Beckman [about Morgan]: He's a diamond in the rough. Very very rough. But I'm sure you'll make him sparkle. | permalink
Chuck: How's that field training [with Morgan] going?
Casey: Let's put it this way, he makes you look like a natural born operative. | permalink
Mrs. Turner: Watch each others back.
Mr. Turner: And I wish you many happy marriages. | permalink
Eric Hochberger is the programmer of TV Fanatic, so please forgive his mediocre writing. His programming is far better. Follow him on Twitter and/or email him. Just don't request threaded comments. They're coming.