Desperate Housewives Review: "I Guess This is Goodbye"
Matt Richenthal at .
It was an episode of farewells on this week's season finale, but at least all of the housewives made it out alive.
The biggest drama was that both Angie and Lynette made it out of their sticky hostage situations with just a little bit of creativity. 
Angie figured out Patrick's plot to kill her and Danny, turning the tables on him.  This chick is pretty good, I have to say.  Putting the bomb in the detonator?  I didn't see that one coming.  Well done Ang.  However, with it being your last episode on Desperate Housewives, we're sad to see you go.  But, hey, at least your exit was clever, and you didn't get killed off as many predicted you would.
As always, Lynette used her motherly love to get out of her hostage situation, and have Eddie help her deliver her child.  I'm not really sure why it was necessary to have the baby come out with the cord wrapped around it's neck though – I mean, it's not like there wasn't enough drama happening already in the hood.  We could have done with out that  - and the strange feta cheese looking clumps that were all over the newly born baby. 
Yuck.
In other news, Susan and Mike are bouncing from the neighborhood, as they drove off in their brand new Volvo to figure out how to get out of their sticky financial situation.
Hmmm, I wonder if anyone has mentioned to them that having a brand new car may not be the best idea if you can't pay your bills.  But then again, it appears these two just aren't that bright – let's face it, Susan is the resident ditz, and Mike is just learning that he has to actually collect the money that people owe him for working on their pipes.
We feel bad for MJ, who has only learned one thing from his parents, (
if
they his parents!)  and that is how to play them against each other.  One thing is for sure: this kid is in trouble.
As for the other goodbyes, in addition to Patrick, blackmailing Sam is also out of the picture.  We're glad to see him go; it just seemed too random to have this preppy half son around. It didn't really make any sense why he came about.
My guess is that Bree just had everything going too well, so someone had to bring her down to ground zero. Now, with Orsen gone, and Andrew potentially being turned into the cops for murder, she is left alone, with no family, and no business.  I bet this calls for a good dose of Botox and Chardonnay soon.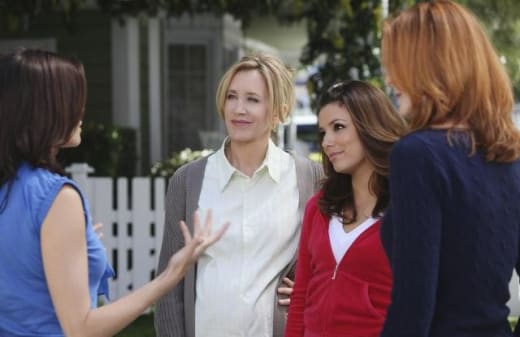 Meanwhile, Gaby played the hero this time around.  We were especially impressed with how she scaled a trellis in her Christian Louboutin's  - what a go getter! This girl will sacrifice anything to save a friend.  She has come along way from her early days on the Lane, where she would have saved her shoes over an actual person.
Overall, this episode was a good wrap up for the season, but left us a bit uninterested with what to expect for next season.
The random nurse confession about a child being raised by parents who are not his own, and the return of Mary Alice's husband, they both seemed disconnected from the rest of what was happening to the gang. They were just blatant teases for next season, tossed in out of nowhere.
Let's hope that the plot can return to having some character interaction next season, and not be written like a soap opera next time around, but let's face it – there are only so many desperate situations these ladies can get into over the years.
Oh well, until September. It's been a pleasure!
Matt Richenthal is the Editor in Chief of TV Fanatic. Follow him on Twitter and on Google+.