There was definitely a lot of sexual rendezvous going on during this episode of Parenthood!

On "Solace", the Braverman's definitely had their hands full.  Camille decides to get revenge by sleeping with her art teacher, while Amber has sex with Haddie's virgin ex-boyfriend.  Can it really get any steamier? 

Yet, our favorite part of the entire show was when Crosby contemplates settling down with Jasmine and Jabbar!

Crosby, the eternal bachelor and one of our favored Braverman's, goes to look at a new place to live.  He needs not only a place to keep his childhood piano, but also more room for his new son.  We love the fact that he is now growing up and being more responsible.  But, there is also a relationship blooming for him with Jasmine.  Will things work out for these two?  What do you think?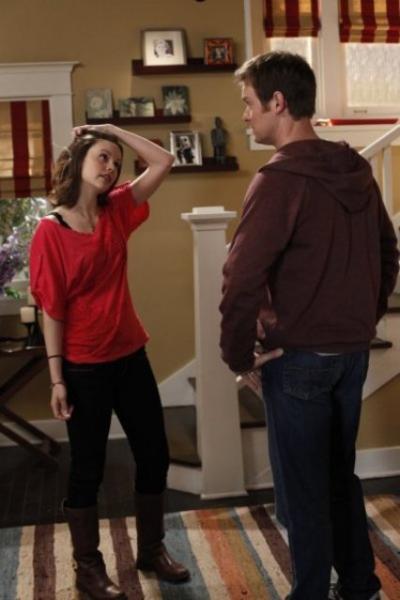 Camille has seriously been hurt by her husband Zeek, not only by hiding their financial troubles but also in the past.  We have to admit we were a bit shocked that she would go out and have an affair.  How can she get mad at her husband for cheating when she went out and slept with another man?   

Will these two ever work out their differences? We hope so!  How can this show possibly go on with the Braverman parents divorcing?  We know this happens all the time in real life, but that doesn't make for entertaining television.  Zeek doesn't seem like the type to easily forgive, especially once he finds out of his wife's affair.  What a mess these two are in. 

Poor screwed up Amber.  You could literally see the agony she was going through after telling Haddie the truth.  It doesn't seem like Haddie is going to forgive her and from the previews, it looks like all the Braverman's will soon find out about the affair.  Hopefully this young woman can learn and grow from this huge lapse in judgment, because that is what life is really all about. 

Honestly, we wish Amber just kept her mouth shut and never told Haddie the truth.  Sometimes people do things they regret, and sleeping with Steve while intoxicated was definitely a mistake for Amber… but, Haddie had already broken things off with him.  He was single!  How do you think this will turn out?  Whose side are you on? 
Parenthood is a fantastic family drama that never fails to entertain! We recommend it highly to anyone that wants to laugh out loud and at times reach for a tissue. 
Here are a few of our favorite
Parenthood quotes
to keep you entertained until next week:
Crosby: Clearly I don't know how to separate colors. Why you try to segregate my laundry? | permalink
Zeek: Good for you for resisting when that boy, you know, was trying to get you to have intercourse with him. I'm so proud of you.
Haddie: Thanks Grandpa.
Zeek: You're welcome. | permalink
Camille: Change is healthy.
Crosby: No it's not, that's an urban legend.
Camille: Sometimes you just have to make a choice. | permalink
Realtor: Do you have a family?
Crosby: Uh, yeah, you know, it's complicated, but I did recently acquire a son. | permalink
Sarah: Look at her flirting and giggling, it's like she's in the Sex and the City movie. | permalink