Alicia Florrick is a good woman. She was told this multiple times on the episode "Hybristophilia."
First, Kalinda applied as much when she took Alicia out to celebrate her promotion. Then, Peter's mom relayed the same message at the conclusion of the episode.
But how did the hour end? With Alicia being used as Peter's political pawn and with her recruiting business for a law firm that isn't always on the side of what's right.
It's a morally grey area, the kind this show resides in on a weekly basis, always without dumbing anything down for viewers and making references to people such as Malcom Gladwell without stopping to explain. That's why I love it.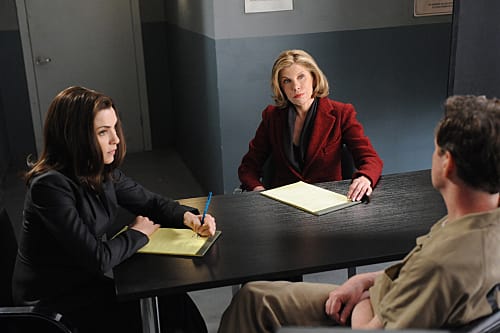 Other notes from the episode:
Carrie Preston's Elsbeth Tascioni, as Peter's new lawyer, was entertaining but also a bit of a cliche. We've seen the seemingly ditzy female attorney, who's actually right on top of her name, many times before.
How great was the scene with Eli, where he threatened the FBI agent with posters, buttons, mouse pads and refrigerator magnets?
How do you spell Best Supporting Actor at the Emmy Awards? D-y-l-a-n B-a-k-e-r.
Speaking of that woman, does she have a history with Kalinda? Or does she want a future with her? Sorry, Kalinda. You may have said your life is private, but we're still gonna speculate.
Childs + Cary = Oodles of slimy competition for Alicia and company next season.
WHAT DID YOU THINK OF THE EPISODE?
Matt Richenthal is the Editor in Chief of TV Fanatic. Follow him on Twitter and on Google+.