Because Bethenny Frankel Actually Already Got Married Months Ago wasn't as catchy a title, Bravo premiered Bethenny Getting Married on Thursday night.
Yes, The Real Housewives of New York City star has her own series, and yes, it focuses on Beth's wedding and pregnancy, both of which are already history.
The frequent problem of these supposedly normal "housewives" - even single, unmarried ones at the onset - becoming celebrities reared its ugly head again.
It's hard to take the show remotely seriously not only because it's Bethenny Frankel, but because there is no suspense and we already know the outcome.
Here's the thing, though: It wasn't terrible.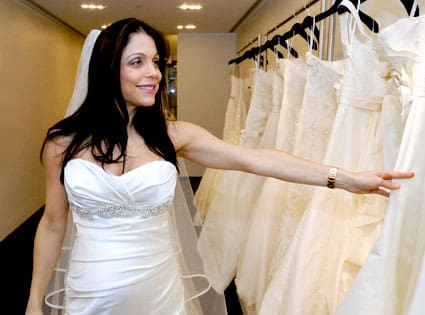 Unlike The Real Housewives of New York City, the spin-off focuses on a likable person and there's relatively little drama. No knots of anxiety. No bitter fights.
Without the obligatory outlandish behavior that draws viewers to each Housewives franchise, you'd think Bethenny Getting Married would flounder. But no.
Bethenny actually comes off as charming and relatable, a successful woman with a great sense of humor and a self-deprecating side we didn't know existed.
Jason Hoppy, too, now seems cool and chill instead of boring and dull. Interesting what a slight change in perspective can do to people you think you know.
They seem compatible, too, even if Bethenny's lies when she says "Both of us would rather be eating potato skins at a mall." Come on. You're not that chill.
While somewhat nauseating and not exactly edge-of-your-seat TV, it's nice to see Jason compliment his would-be bride so frequently and seemingly so sincerely.
They have real problems, too, and don't put on airs about being perfect: "To be honest, she was engaged three times," he says. "I guess I have a little concern."
No kidding.
Also revealing? That Bethenny is in therapy now. Why these personal sessions are being filmed, we have no idea. But she has issues, and is working on them.
That's a good, refreshing thing. Most people are too stubborn to leave themselves vulnerable and unload their baggage to a third party who won't coddle them.
Hopefully therapy helps Frankel. Like her relationship with Jason, her reality show is promising enough and could be consistently positive if nurtured properly.
For much, much more on this latest installment of Bravo's flagship franchise, follow this link for an even more comprehensive Bethenny Getting Married recap.
Steve Marsi is the Managing Editor of TV Fanatic. Follow him on Google+ or email him here.