Justified Review: "Fathers and Sons"

Luke Dwyer at .
This week's episode entitled "Fathers and Sons" focused on the deteriorating relationship between two pairs of fathers and sons: Raylan and his father Arlo and Boyd and his father Bo.  What was particularly interesting about this episode and the development of the two relationships is two-fold.

First, the diverging paths the two relationships are taking.  For Raylan and Arlo, things seemed to be getting better, especially after his father confronted death and found he wasn't as anxious about it anymore.  The two share a drink at the VA bar and Arlo actually sticks up for Raylan and the two have a moment, so to speak.  Of course, Arlo's a con man and we learn he was playing Raylan like a fiddle at the end, but up until that point the pair was improving.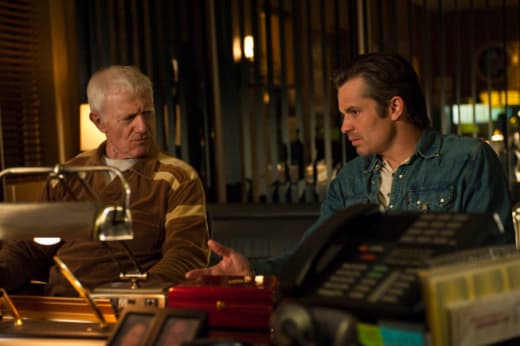 For Boyd and Bo Crowder, their relationship was moving the opposite direction.  Once reunited in prison, we see Bo defend Boyd when he's threatened by other inmates and the pair is happy to see each other once again.  The father and son seem to be working from a healthy relationship.
However, once Boyd is released and Bo realizes that his son is serious about his religious conversion and destroying meth labs, the two start to clash.  Bo has not changed during his time in prison and is now looking to restart the drug trading he was working before he left.  Boyd will not allow this to happen, culminating in blowing up a large shipment of ephedrine Bo has recently purchased.  Certainly there will be literal shots fired at one another in next week's season finale.

Second, Justified continues to blur the line between good and bad and places its characters in different points along the line that separates the two.  On opposite ends of the spectrum are Raylan Givens and Bo Crowder representing good and bad, respectively.  However, each is not pure good or evil with Raylan sometimes bending the rules to get when he needs while Boyd believes there is good in his father.

For Arlo and Boyd, however, their place on the good/bad scale is harder to determine.  Both are initially presented as bad man, but then are shown in situations that perhaps justify their actions.  At times Arlo seems like a hardened criminal who knows how to work the angles to get what he needs.  At other times, however, Arlo seems like an old man just trying to survive, by whatever means necessary.
Boyd certainly began his run on
Justified
as a hardened villain.  Since that time, his position has been difficult to pin down.  His initial, post-shooting interactions with Raylan were wholesome on the surface, but neither Raylan nor the viewers believed it.  Upon his release from prison he professes his change to his father, but even Bo does not pay much attention to it.  Attempting to do something right, Boyd blows up a meth lab, but his father can only see the impact it has had on his protection business with people now running back to Bo for protection.
The Crowder son seemed to be progressing towards a path of righteousness and faith in the Lord that he keeps professing, but then we see him take the money his father gave him for blowing up the meth lab and using it to purchase a rocket launcher.  Just when we thought Boyd was turning a corner, the purchase makes it seem like he's playing everyone.
As quickly as Boyd seemed to be playing us, we find out once again that he is not.  The rocket launcher is simply another weapon in Boyd's crusade to eliminate methamphetamine from Harlan.  Perhaps Boyd really is looking to make a change in his life.
Where we're left at the end of Fathers and Sons is what seems like an unlikely alliance of the fathers against their sons.  Certainly Arlo is now working against Raylan with his plan to feed false information to Raylan and the Marshals about Bo.  It also seems reasonable to expect that Bo will go after Boyd and go after him with vengeance. 

What I think will be interesting is when the moment is upon Arlo and Bo, will they be able to pull the trigger, figuratively or literally.  If Bo wants to kill Boyd for destroying his ephedrine delivery, will he actually be able to shoot his son?  Can Arlo continually feed his son bad information if it might put Raylan's life in danger?

My guess is no on both counts and I feel there will be some sort of emotional breakdown for the two fathers that will result in their incarceration.  What's particularly interesting is that the alliance between Raylan and Boyd that was initially hinted at back in second episode and alluded to ever since is likely what will take both Arlo and Bo down.

Some other questions to consider with just one episode left of the first season of Justified.

How will Ava play into the Crowder's feud with the Givens's?
Who will win Raylan's love: Ava or Winona?
Was Ava's statement that she was going to stay in Riverbrook (Episode 2) significant?
How will the cartel react to Boyd blowing up the ephedrine delivery and Bo messing up already?