Lie to Me made unique use of Cal Lightman on "React to Contact." Unique under-use, that is, as his typical skills weren't on display in helping an Iraq veteran work through some repressed memories.
I find it slightly interesting that going into the fourth of July holiday weekend that Fox decided to run an episode featuring a possible PTSD Vet needing help remembering the truth.
While the overall writing for this episode was decent, it really didn't feel like a true episode of Lie to Me, given that they used a huge assortment of gadgets to help the soldier, from brain-scans to virtual reality recreations. The episode centered more on technology than on what Cal and his team really do well:read people.
Don't get me wrong, there was a dash of reading in the episode, but overall it felt a little more CSI than anything else.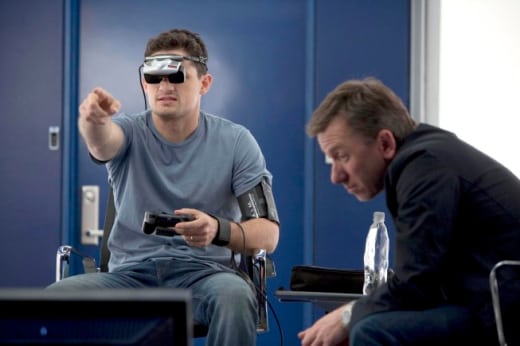 The technology aside, I also was a bit disappointed that story involved an issue with what first looked like regret over shooting a young combatant, and then turned into a friendly fire cover-up. We get it: war is bad and friendly fire really isn't! 
As someone who served in the USAF for two tours, I know firsthand that soldier's can make mistakes. But can't anyone have a "post Iraq trouble" episode with a more of a original take on it?
I did love seeing Cal spending time with his daughter, at least. I also loved that he talked about his father a bit, and that they put out a hook of that coming into play a bit more down the line.
Lastly, I do want to mention that my hat is off to the writers and Tim Roth for the use of his British dialect and speech. Not many shows would feature such great lines like "he's absolutely crackers" and make it sound so legitimate and apt.
What did you think of this week's episode? Do you feel the story has been done before? Do you think the team was under-utilized? Check out a few Lie to Me quotes from the installment and comment away now!
Jim G. is a TV Fanatic Staff Writer. Follow him on Twitter.