Nikki Blonsky Talks to TV Fanatic About New ABC Family Show
Matt Richenthal at .
Remember Nikki Blonsky as the bubbly, energetic Tracy Turnblad in 2007's Hairspray remake?
Okay, now forget that character. The actress takes on a new challenge in Huge, an upcoming series on ABC Family that premieres on June 28 after a new episode of The Secret Life of the American Teenager.
As will, the actress is one of several teenagers dealing with major personal issues at a weight loss camp. It's serious, dramatic stuff - and Blonsky spoke to TV Fanatic about the show and her character yesterday. We thank her for her time and for these answers...
TV Fanatic: How did you get attached to this show?
Nikki: My agent brought it to me. I had to audition many times because producers didn't think I was edgy enough for the role, but I really, really wanted it and it worked out.
TVF: So the character is "edgy?" What else can you tell us about her?
Nikki: She goes by "Will" and is against the grain in every possible way: blue hair, boys' clothes. She keeps all her emotions inside and I just thought I could touch base with her in a way that could bring her to a different light. She doesn't have a lot of friends or a good home life.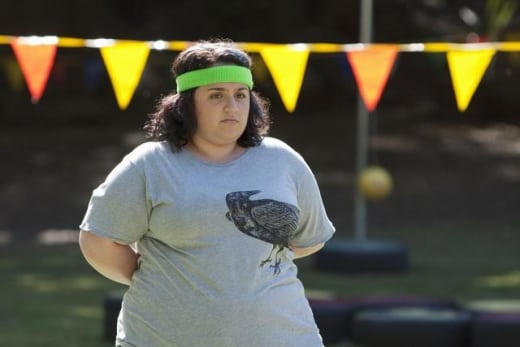 TVF: The cast doesn't look like any other on TV, that's for sure.
Nikki: I couldn't be more thrilled that the main characters are all plus-sized. It's ground-breaking in that way. I think kids will be able to relate because they can finally say about someone on television: that person looks like me.
TVF: What else can you tell us about Will and what to expect from the show?
Nikki: My character's motto is "Go big or go home." She never wants to succomb to what she's being told to do. In the first episode, instead of giving in to her parents when they tell her to put on a bathing suit, she does a full-on striptease.
TVF: What's the target audience for Huge?
Nikki: It's a show for everybody. No one in this world can say they have never had a body issue. The series also deals with other life challenges, such as eating disorders and sexual orientation. There's something for everyone.
Will you give Huge a shot? Watch a preview for it NOW.
Matt Richenthal is the Editor in Chief of TV Fanatic. Follow him on Twitter and on Google+.