The City Review: Whitney is Not a Real Designer
Steve Marsi at .
As reality shows go, The City was actually fairly realistic last night, as three of our heroines were openly chastised for being inept at their jobs, or at least not meeting expectations.
In this regard, it can be a compelling program in ways The Hills couldn't imagine. Sure, certain situations are highly edited and unrealistic. But there are layers of cold, hard truth.
Is Whitney Port a fashion designer with a reality TV show on the side, or a no-talent reality star trying to make it in high fashion? The line is frequently blurred, the question loaded.
Last night, she sure looked to be the latter, as Anne Slowey slapped her around (figuratively) at Elle. Basically, Whit was told her fashion collection had all been done before.
For a designer, that's as big a put-down as they come.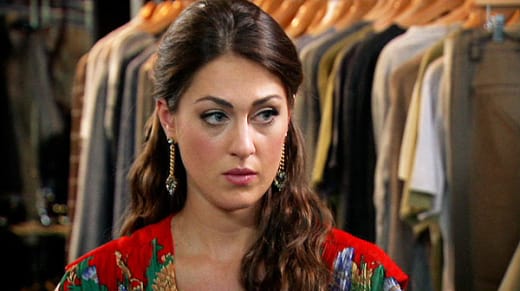 Roxy Olin wears her typically confused expression.
Last night, the career trajectories of three of the show's four stars were downward:
Whitney's fashion line continues to draw more criticism the more people look at it. Will she suck it up and make better clothes, or settle for life as a D-list reality star?
Olivia Palermo shouldn't even have a job, something more and more colleagues seem to be growing aware of. After botching a Guess event, Joe lets her hear about it.
Roxy Olin (pictured) is taken off Whitney's line, then is instructed not to mention Whitney's line to other designers, and can't even manage to abide by that simple task.
Talk about a rough week for the girls (our City recap has more).
If nothing else, having actual fashion designers inform Whitney that she is not one of them gives the show some credibility. As for why Olivia still works at Elle? Another story.
We're not quite sure how she could be this bad at her job - and how she and Erin Kaplan, the only sane and capable one of the bunch are always working together and feuding.
We're similarly unclear on how Roxy Olin (and to a degree, Whitney) is tolerated by Kelly Cutrone, who seemingly has no patience for inept whiners. Seriously, girls. Suck it up.
Still, an entertaining episode, and refreshing to see that the ladies' career aspirations are, at least to a degree, not coming as easily as you'd expect them to on a reality show.
Steve Marsi is the Managing Editor of TV Fanatic. Follow him on Google+ or email him here.