The Hills has never shied away from recycling idiots and story lines. This can be effective if you like the people and stories, but last night was the worst example of all time.
Justin-Bobby? Really guys? We haven't had enough of this "Ghost From the Past" over multiple seasons? Does anyone want to watch Audrina Patridge fawn over him again?
It's going to be epic. She's dating this other guy, Ryan Cabrera (even though she broke up with him in real life), and is going to be conflicted. The good guy vs. the bad guy.
They haven't done this several times before or anything.
Also funny? Expecting us to believe they ran into each other by chance at the Viper Room, and that Justin-Bobby has been in a band and we never knew about it until now.
The Hills is really scraping the bottom of the barrel now.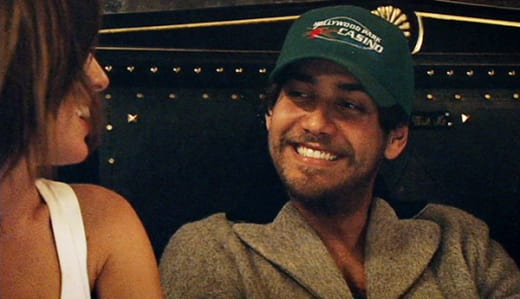 Just when you thought you'd seen the last of this loser.
Meanwhile, Kristin Cavallari has a hard time moving on from Brody Jenner, who brings naive new plaything McKaela around to make her jealous, and maybe get some as well.
This is Brody Jenner's game in a nutshell:
Hook up with Kristin
Tell Kristin they're just friends
Bring around some new girl to prove they're just friends
Watch Kristin get upset, comfort her and hook up again
Repeat
Brody has this down to a science and should patent it. Guys everywhere, take note. Girls everywhere, prepare to throw drinks in guys' faces when they attempt this maneuver.
Elsewhere, McKaela and Lo talk about working together. *BONK*
Whoa, sorry, that was the sound of our head hitting the desk, following the spontaneous nap that broke out. When you're doing Lo-McKaela scenes, guys, it's time to call it.
How many more seasons can this last? Fortunately, this is the final one, unless producers somehow reconsider. Hopefully they won't, it's growing rather stale and repetitive.
There's not even any Speidi to liven things up anymore! At least then you had the potential for serious, out-of-control erratic behavior, but nowadays? Just plain boredom.
Steve Marsi is the Managing Editor of TV Fanatic. Follow him on Google+ or email him here.