The Hills Review: "Between a Rocker and a Hard Place"
Steve Marsi at .
The Hills really needs to get it together or get off the air.
Sorry, but the truth hurts. Much like losing Lauren Conrad hurt last season. This season is even worse, though, with the lack of Spencer and Heidi making the show downright boring.
People love to watch rich people bitch at each other, as The Hills and every Real Housewives installment have proven. But you need good girls and villains who will keep you invested.
Right now, try as it might, The Hills falls short on both.
Sadly, the closest we can to Heidi last night, as our gossip site's The Hills recap notes, was Kristin Cavallari with teased hair and huge earrings. All she lacks are 10 plastic surgeries.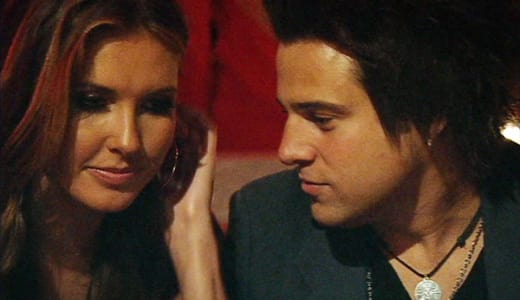 Hair and music aside, Ryan Cabrera seems like a really good guy. That's basically kryptonite to Audrina Patridge, however. This is a girl that prefers bad boy losers to nice guys 24/7/365.
The main plot line last night centered on Audrina Patridge and Ryan Cabrera, her soon-to-be former boyfriend who's more into her than vice versa, from all recent indications.
Part of the reason she's so torn? Her, ex, Justin-Bobby is somehow back in the mix, despite proving his true colors (and those are loser colors) for multiple seasons already.
Seriously, MTV? Does anyone like/care about him?
The highlight of the episode, if you insist on trying to find one, came as Ryan and Justin finally met in an uncomfortable nightclub moment. Awkwardest. Handshake/high-five. Ever.
Meanwhile, Allie Lutz continued to stick up for McKaela Line (why these two became major players on the show, we have no idea), while Kristin continued to loathe her every move.
Kristin's pissed about Allie breaking into Brody's house, supposedly, and for existing in general. The nerve. McKaela is a bit of a lost soul here, unsure of how to react, and to what.
We were falling asleep by the end, but it appeared that McKaela just couldn't let go of Brody and continued to pursue him. As usual, though, he sides with his girl Kristin in the end.
At least until he decides he wants to play the field again.
Steve Marsi is the Managing Editor of TV Fanatic. Follow him on Google+ or email him here.