The Hills Review: "Make Up to Break Up"
Steve Marsi at .
Week after week, The Hills continues to illustrate with crystal clarity why the current sixth season will be its last. It's run clear out of ideas and interesting people.
Lauren Conrad was a girl we fell in love with and made this guilty pleasure a can't-miss show for a time. But it wasn't just her departure that ruined the MTV hit.
Say what you will about Spencer Pratt and Heidi Montag, they are interesting! The two villains have apparently been dropped, without any explanation, for good.
Now we're left with Audrina Patridge, the most boring individual ever, and Kristin Cavallari, who would be cute if she could tone down the bitchiness just a little.
Both of them are smitten with that loser Justin-Bobby. It seems every The Hills recap seems to eventually come back to this guy for years on end. What the H?!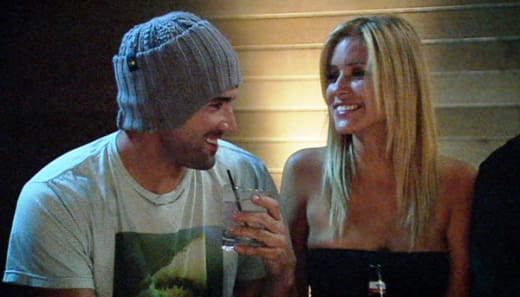 Try as they might, Brody Jenner and Kristin Cavallari can't make The Hills.
Seriously, what is so appealing about this guy that TWO women will be trampled on by him time and time again, then go running back. He's not rich, famous OR good-looking!
Audrina even dumped Ryan Cabrera, who (hair aside) could be considered all three. The rocker is at least a really nice-seeming fella ... but no matter. He's no Justin-Bobby.
It's painful, really, to watch him come on board for her birthday boat trip, which ended with J.B. and Audrina sitting snuggled with a blanket on the boat's deck reminiscing.
What we wouldn't give for a "man overboard" twist as the credits roll.
The other thing that kills us is the "relationship" between Brody Jenner and Kristin Cavallari. We get it. They're friends with benefits. But that's just not interesting enough.
Watching them actually date would at least be somewhat appealing.
After all, don't they have this amazing chemistry we're reminded about every day by their co-stars? Let's see some of it and less of the same old BS for once in our lives.
Steve Marsi is the Managing Editor of TV Fanatic. Follow him on Google+ or email him here.