The latest episode of Eureka was another great offering that left me with mixed emotions by the end.
First, I am really sad and disappointed that Tess and Carter broke up. I don't see the reason behind the split, as it feels arbitrary and forced.
I understand the writers think that the show needs the Carter/Allison tension to exist. That's a trap many shows fall into. But Eureka is written well enough that it could move on past the Allison/Carter issues not lose any suspense. However, I don't think the writers are willing to give up their favorite hat-trick.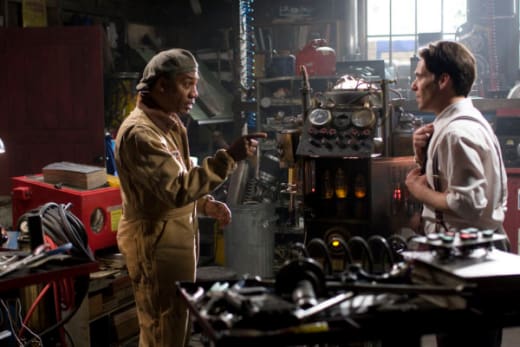 That problem aside, the rest of "All the Rage" was incredible.
Allow me to offer my complements to the writers and director. If you had told me they could work in a zombie invasion into the show without anyone actually dying, I would have said no way! But I stand corrected; they got all the key elements for a great zombie flick in there. The flickering lights, the angry rage like zombies, and even some people having slow conversion than others.  It was simply amazing.
On top of the zombie invasion, we got to see some great stuff from Jo again. Her ability to restrain the rage and resist the anger longer than anyone else showed us how amazing of a person she really is. As I said before, I was really hoping we would get to see her grow and tonight's episode gave us a small taste of that. I really think that Jo is going to come into her own as a very powerful character this season. When she does, remember who was first in line for the Jo fan club.
This brings us to Henry and Grant. This story element got me with the head fake it put on. When items started disappearing I kept thinking to myself: "See they have to send Grant back to fix it now!" and when it turned out to be Grace playing a practical joke on Henry I realize she had gotten me, too. I like how Henry is warming up to Grace and has already developed a little crush on her.
After the emotional wreckage he was in season two, it is nice to see the show bringing back out his warm gentle side. I really did not like angry, brooding, revenge driven Henry. This is the Henry we all love, and I truly hope that he and Grace can take the path not travelled by Carter and Tess and find real romance.
I am ending this week with a single question. Has anyone seen the episode (or webisode) where Carter and Tess break up via holographic phone call? If you have, comment below and share any information you have on it. I am sure many of us would love to find that missing piece of the story.
Jim G. is a TV Fanatic Staff Writer. Follow him on Twitter.