From information on special theme episodes to insight on Kurt's upcoming boyfriend, Glee creator Ryan Murphy and the show's Comic-Con panel spilled an awful lot about season two this week.
Take a look at various developments on the way:
Look for a Rocky Horror Picture Show-themed installment.
Kurt and his boyfriend will vie for the title of Prom King and King.
We'll be treated to a religious-themed episode that includes Mercedes singing at a church (and, perhaps a focus on this character?).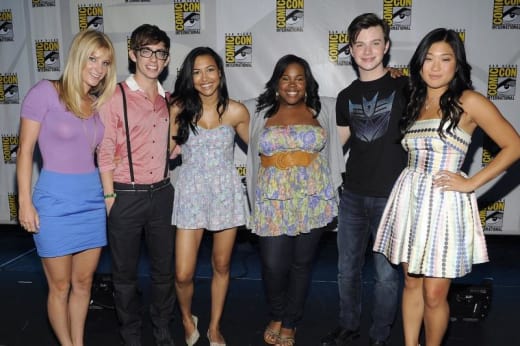 Idina Menzel will definitely be back!
The Britney Spears episode will be titled "Britney/Brittany" and in September. Said Murphy:
"We're doing it in a very funny way. We're doing it in a fun, hallucinogenic way," adding that it will center on Mr. Schuester refusing to do Britney songs, a reflection of Matthew Morrison's expressed desire to NOT do this episode.
We'll meet Artie's mom, Rachel's dads and Brittany's "really smart older sister."
The show returns on September 21. Sound off on all these spoilers in our Glee forum!
Matt Richenthal is the Editor in Chief of TV Fanatic. Follow him on Twitter and on Google+.