Last night's episode of Huge focused a lot of attention on boundaries.
Some of the more guarded characters (Will, Amber, and Dr. Rand) cope with interlopers invading their private spaces. The forced exposure of "Talent Night" revealed more than hidden talents from these characters, leading to either more firmly established boundaries or a slight lowering of those strongly guarded fences.
Dr. Rand's idea to grow closer to her father by working together seems to be effective, though not in a way she expected. His constant presence has interrupted her usual routines, making her break her steadfast eating rules (damn destructive midnight muffin) and broken through some of her fences.
Uncomfortable with both his intervention (calling her "Dot" in front of strangers) and also with people's perception of her as a bit domineering and somber, Dr. Rand struggles with figuring out where her boundaries lie, both internally and externally.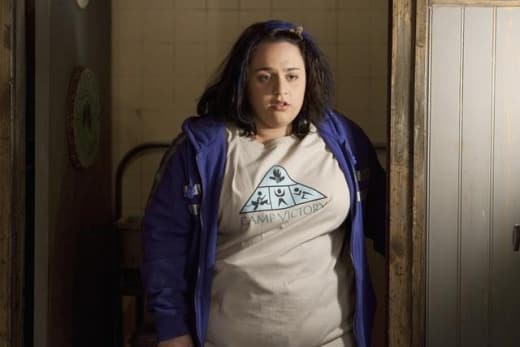 Wayne, the kindly land surveyor, tells her that the disputed territory between her camp and the tennis camp is actually part of Camp Victory, but with no firmly established lines (no fences, signs, etc.) she is basically inviting trespassers. Rand is initially irritated at the implication that she is "asking" for people to trespass, but Wayne's good-natured assistance eventually wins her over.
Wayne puts up "No trespassing signs" for Rand and as far as he and Chef Joe are concerned, "They've always been there, right Dot?" Rand is happy to have her boundaries firmly established again and possibly opens herself up to a new romance with Wayne.
Chloe and Amber's friendship has become increasingly tense since Trent began flirting with Amber in last week's episode. Despite her jealousy over the situation, Chloe and Amber practice their "Baby Got Back" routine as the closest of bff's. While Amber tries to deny Trent's interest, Chloe denies her hurt over the slight and helps look for Amber's nonexistent camera.
The misunderstanding over the camera they find in the lost and found reveals that Amber comes from a less than wealthy background. She is embarrassed by this exposure and runs away from Talent Night in tears. Chloe, upset because she was lied to by her friend, runs sobbing into the arms of Trent.
After she finally gets the romantic attention she wants (and few kisses as well) from a somewhat reluctant Trent (going for the sure thing instead of Amber), Chloe is ready to forgive her bff and move forward with their shallow friendship. Amber's friendship with Chloe makes sense now as more than just two popular campers hanging out together.
With Chloe, Amber doesn't have to deal with too many probing questions about her home life, but these types of relationships make it too easy for her to continue to be so guarded.
The loss of her camp journal exposes all the worst parts of Will's character.
After establishing herself as a bossy, annoying girl, Will showed more of her inner demons about her weight and made herself more sympathetic in the past few weeks. However, she so heavily guards the private thoughts of her journal that she is willing to destroy everything she's established, including friendships, to keep her secret musings. When Becca asks what was in her journal, she blasts her closest friend and basically tells her to shut up about it.
Alistair would have told her about the lost journal he and Ian found, but her irrational anger shuts him down, as well. Ian's heartfelt connection to the poem she wrote doesn't erase the violation Will feels over having her thoughts read by someone else.
Although he swears he didn't read more than the one poem, Will doesn't believe Ian and ends their friendship in the character's biggest overreaction so far. Becca's sneaky reading of the journal after she knew how embarrassed Will was by the loss of her private thoughts possibly deserved this reaction, but not Ian's innocent perusing of the lost journal. Will's firmly established her boundaries, pushing out everyone else.
Being as closely guarded as Amber however does not endear her to either her friends or the audience as much because of the way in which she posts her "No Trespassing" signs, with cruel anger instead of shy self-consciousness.
While the episode gave us more character development, it took a big step back with Will's emerging civilized and compassionate behavior.
Previews for next week seem to display a repair in the Will-Ian relationship, which gives us some hope for the character. However, the show's most enjoyable moment was (of course) from Alistair at the talent show. Failing to pull off his magic trick (distracted by Trent's stylish makeup or disappointed by his bullying attitude?), Alistair combats the growing "boo's" in the audience by turning the magic show into a comedy routine.
He quips, "There was actually a dove that came with this magic kit, but I ate it." Hilarious and awkward, Alistair is definitely a favorite.