So You Think You Can Go a Whole Week Without an Injury?!
It's getting ridiculous. For the third consecutive week, an injury meant the field was down a body. Are the dancers perhaps being pushed too hard? Is it bad luck and nothing more?
Will it mean yet another results show with zero tension tonight?
Maybe, maybe not on that last point. Nigel seemed to suggest that Billy Bell, who hurt his knee during rehearsals, should be able to bounce back by next week. Alex Wong and Ashley Galvan were not so fortunate the previous two weeks, though. Who knows.
The five contestants who actually performed did three dances last night, performing with an All-Star, with another contestant, and by themselves. Here's a rundown: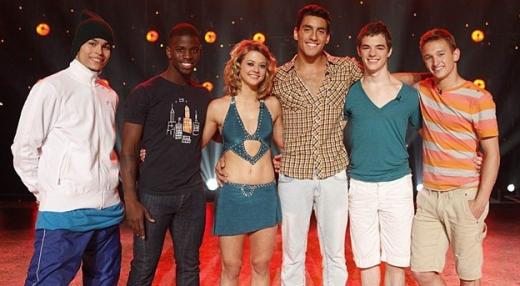 Contestants and All-Stars
Lauren Froderman & Twitch (Hip-Hop): Guest panelist Kenny Ortega told Lauren after the routine, which featured her straddling Twitch, bronco-style, in a Wild West-themed bit, "You have enough energy to power Los Angeles." Certainly no arguments here.
Jose Ruiz & Allison (Contemporary): The concept of the routine, danced on the edge of the stage, also made it hard to critique. The routine was terrific and Jose was alternately praised and criticized. Definitely a hard one to handicap as far as fan perception.
Robert Roldan & Lauren (Jazz): Robert stepped up with this one. Definitely stronger than some of his previous weeks' performances. Maybe enough to keep him around?
Kent Boyd & Kathryn (Jazz): Despite being reprimanded for his goofy face, Kent was told that he is the man to beat and that he's out-danced the All-Stars. 'Nuff said.
AdéChiké Torbert & Comfort (Hip-Hop): Intense and emotional, the lyrical hip-hop routine set to "Fallin'" by Alicia Keys earned AdeChike some much-deserved praise.
Contestant-Contestant
Lauren & Robert (Samba): This beach party-themed samba really showcased Lauren's versatility (and booty) and Robert's as well. In fact, he might have surprised the judges more pleasantly than she did with this thoroughly engaging routine.
AdéChiké & Jose (Paso Doble): At least the judges didn't go off as much as they could have.
Kent & Twitch (Step): With Twitch filling in for Billy, Kent might have gotten a nice boost from a dance that he seemed destined to boot. Or maybe we just don't give Kent his due. The two showed great chemistry and he definitely held his own.
Who do you think will join Billy Boyd on the chopping block, and who do you think stood out the most on So You Think You Can Dance? Comment below!
Steve Marsi is the Managing Editor of TV Fanatic. Follow him on Google+ or email him here.